What's the name of the theme song to 'Friends'?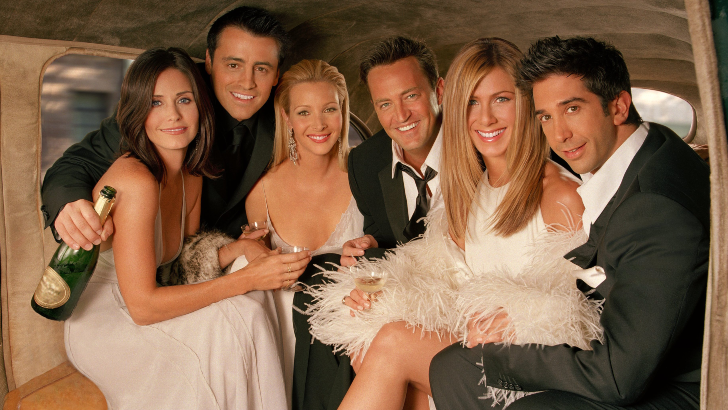 "Friends Will Be Friends"
"I'll Be There For You"
"I'll Be There for You" is a song by American pop rock duo the Rembrandts. The song was written by David Crane, Marta Kauffman, Michael Skloff, and Allee Willis as the main theme song to the NBC sitcom Friends which was broadcast from 1994 to 2004.
Before Central Perk was a coffee shop, what type of establishment was it?
It was always a coffee shop
It was a bar.
In season three's flashback episode, Central Perk used to be a bar with a pool table.
Who did Ross accuse Rachel of cheating on him with before they "went on a break?"
Mark
Mark and Rachel worked together at Bloomingdale's, but the two never dated.
Which "friend" never lived in Monica's apartment?
All of them lived there at one time or another
All of them lived there at one time or another
At one time or another, every friend lived there, including Joey and Chandler, who switched apartments with Monica and Rachel after the girls lost a bet.
Who was Marcel?
Marcel was the seventh "friend" no one talked about
Marcel was Ross' pet monkey
Marcel was Ross' alter ego
Marcel was Ross' pet monkey
Marcel, the capuchin monkey, appeared as Ross' pet during the show's first season.
What did Chandler's father do for a living?
He was a cross-dressing cabaret singer
He was a best-selling author
He was a cross-dressing cabaret singer
Chandler's dad, played by actress Kathleen Turner, was a female impersonator in Las Vegas.
Which legendary rock star sang "Smelly Cat" with Phoebe at Central Perk?
Chrissie Hynde
Chrissie Hynde of The Pretenders actually sang the song with Phoebe at Central Perk.
What was Monica's nickname in high school?
Big Fat Goalie
Monica played on the school's field hockey team, and her nickname was Big Fat Goalie.
What character has Joey played on 'Days of Our Lives'?
Dr. Drake Ramoray
Joey played Dr. Drake Ramoray on "Days of Our Lives."
How many children did Phoebe give birth to for her brother and his wife?
She gave birth to four girls
She gave birth to a girl and two boys
She gave birth to two girls
She gave birth to two girls and a boy
She gave birth to two girls and a boy
Phoebe gave birth to the triplets in season five episode three and named them Frank Jr. Jr., Leslie, and Chandler. They are two girls and a boy.
Why did Ross' second wife, Emily, leave him at the altar?
Ross said Rachel's name while reciting his vows
Emily decided to be single forever
Emily decided she wasn't in love with Ross anymore
Emily was in love with another man
Ross said Rachel's name while reciting his vows
Ross and Emily's marriage lasted about two to three months. … And when she barged into their wedding out of jealousy, her presence resurfaced Ross' old feelings which distracted him into saying Rachel's name at the altar resulting in Emily running away, avoiding him and ultimately divorcing him in a later episode.
What was the name of the trophy Monica and Ross fought over during their Thanksgiving Day "Geller Bowl?"
It was called the Master Cup
It was called the Geller Cup
It was known as the Geller Family Cup
It was called the Geller Cup
The Geller Cup was a trophy that Monica and Ross would receive when they were younger after the family touch football games depending on who won.
In the last episode of the series, Rachel was flying to Paris, France, to take a job with which designer?
She was going to take a job with Calvin Klein
She was leaving to work for Dior
She was going to work for Louis Vuitton
She was leaving to work for Chanel
She was going to work for Louis Vuitton
Rachel accepted a job to work at Louis Vuitton, but turned it down at the last moment to be with Ross.
Who plays Chandler?
Matthew Perry
Matthew Langford Perry is a Canadian-American actor, comedian, and producer. He is best known for his role as Chandler Bing on the NBC television sitcom Friends, which ran from 1994 to 2004.
Monica is a _____ freak.
neat
Monica is often described as being a bit of a control freak who is obsessed with organization and cleanliness. Since the first season, the characters knew that nothing should ever be moved in the apartment. The same goes for Monica's cleaning habits.
How many times was Ross legally divorced?
Three
He was divorced from Carol, Emily, and Rachel.
Rachel and Ross had a baby at the end of season 8. What is the baby's name?
Emma
In the 10 seasons of Friends that spanned from 1994 to 2004, baby Emma didn't get much screen time. As the daughter of Ross (David Schwimmer) and Rachel (Jennifer Aniston), Emma was born in the season 8 finale, "The One Where Rachel Has a Baby, Part 2."
Who was Rachel supposed to marry before she moved in with Monica?
Barry Farber
Rachel was engaged to marry Barry Farber, but escaped through the bathroom window after she realized she didn't love him.
Which of these songs was made famous by Phoebe?
"Smelly Cat"
Phoebe also leads her friends in a sing-along version of "Smelly Cat" at Central Perk, each of whom contribute a solo, except Ross Geller (Schwimmer) because there are no more lines.
How many seasons of Friends are there?
Ten
On September 22, 1994, the television sitcom Friends, about six young adults living in New York City, debuts on NBC. The show, which featured a group of relatively unknown actors, went on to become a huge hit and air for 10 seasons.
What store does Phoebe hate?
Pottery Barn
Pottery Barn, the store that Phoebe Buffay hates with a passion, you can decorate your home in all things related to the NBC hit sitcom (which is celebrating its 25th anniversary this year).
Who was the maid of honor at Monica's wedding?
Rachel
Rachel Green has agreed to be Monica Geller's maid of honour! Jennifer Aniston will have a big role at Courtney Cox's upcoming wedding to Johnny McDaid.
Phoebe's scientist boyfriend David worked in what city?
Minsk
David, also known as David the Scientist Guy, was the first serious love interest of Phoebe Buffay, portrayed by Hank Azaria. Their romance ended when David had to go to Minsk to work.
What is the name of Phoebe's twin sister?
Ursula
Phoebe's crass, identical twin sister, Ursula Buffay (also portrayed by Kudrow), a character originally created for and appearing in the American sitcom Mad About You as a waitress, is also introduced in the first season, in "The One with Two Parts".
Whose apartment did Ross sublet?
Ugly Naked Guy
Ross visits Ugly Naked Guy and bonds with him by eating muffins with him naked. Chandler and Phoebe both wait for the other one to back down, but neither does, and they kiss awkwardly before Chandler gives up and yells out that he loves Monica.
What was Joey's favorite sandwich?
Meatball Sub
In Friends, Joey's favorite sandwich is the Meatball Sub.
What was the wedding gift that made Rachel walk out on Barry?
A gravy boat
Rachel had ended up running away from her wedding to Barry because she didn't love him and was more turned on by a gravy boat.
How many pages long was Rachel's letter to Ross?
18
Rachel writes Ross a long letter ("Eighteen pages! Front and back!") about their relationship and asks him to read it – but he falls asleep while doing so.
What fake name does Joey go by?
Ken Adams
Joseph Francis Tribbiani Jr. is a fictional character, serving as one of the primary characters of the NBC sitcom Friends and the protagonist of its spin-off Joey. He is portrayed by Matt LeBlanc in both series. His alias is Ken Adams.
How many sisters does Joey have?
Seven
Joey has seven sisters: Mary Therese (Mimi Lieber on Friends) a.k.a. Mary Teresa (Christina Ricci on Joey), Mary Angela (Holly Gagnier), Dina (Marla Sokoloff), Gina (K.J. Steinberg on Friends, Drea de Matteo on Joey), Tina (Lisa Maris), Veronica (Dena Miceli), and Cookie (Alex Meneses).
What did Monica and Chandler name their twins?
Jack and Erica
Monica and Chandler's twins, adopted from a young woman also named Erica (played by Anna Faris), appeared only in Friends' two-part series finale. Jack and Erica would be 14 today.
What is Ross' profession?
Palaeontologist
Ross is a paleontologist and has a Ph. D. from Columbia University. His romantic feelings toward Rachel Green (Jennifer Aniston), which began as a high-school infatuation, are an ongoing theme of his narrative arc. Likewise, their on-again, off-again romantic relationship is a nearly constant theme of Friends.
Who was the last friend to find out about Monica and Chandler?
Ross
Ross (David Schwimmer) was purposefully the final friend to find out about the relationship, considering he would likely be angry about his best friend sleeping with his sister, and was already in a bad place dealing with anger management from his job and divorce.
What is Chandler Bing's middle name?
Muriel
Chandler Muriel Bing is a fictional character from the NBC sitcom Friends, portrayed by actor Matthew Perry. Chandler was born to Nora Tyler Bing, an erotic romance novelist, and Charles Bing, a gay female impersonator and star of a Las Vegas drag show called "Viva Las Gay-gas" as Helena Handbasket. Chandler is of Scottish and Swedish descent.
Monica categorizes her towels into how many categories?
11
Monica had a remarkable 11 categories for towels. They included 'everyday use' and 'fancy'.
Who pees on Monica after she is stung by a jellyfish?
Chandler
Joey, Chandler and Monica are at the beach when Monica is stung by a jellyfish. Chandler had to pee on Monica's leg to relief her of the pain. Ross unintentionally takes full responsibility for everything that went wrong between him and Rachel.
Who's catchphrase is "How YOU Doin'?"
Joey
Somewhere in the world, Joey Tribbiani is saying "How you doin'?" right now. You can't turn on the TV without a Friends rerun playing on some channel, and Joey's pick-up line/catchphrase said to any girl he found attractive…and some he didn't is one of its most memorable quotes.
What's the name of the grumpy man who lived below Monica's apartment?
Mr. Heckles
Heckles lived in the apartment below Monica and Rachel and was portrayed by Larry Hankin. In his first appearance, he was credited simply as "The Weird Man".
In season 4, Joey and Chandler end up fighting over a girl named?
Kathy
Kathy is a guest character in Season 4. She is portrayed by Paget Brewster.
What is the name of Joey's Cabbage-Patch kid?
Sadly, you did not pass the test!
Have you really been watching Friends?
Your score didn't meet the passing limit!
Nice try, though.
Wow. You smahed it!
You are undoubtedly a true fan of Friends.