Reflect on this logo as you drink from a hot or cold brew. Name that brand.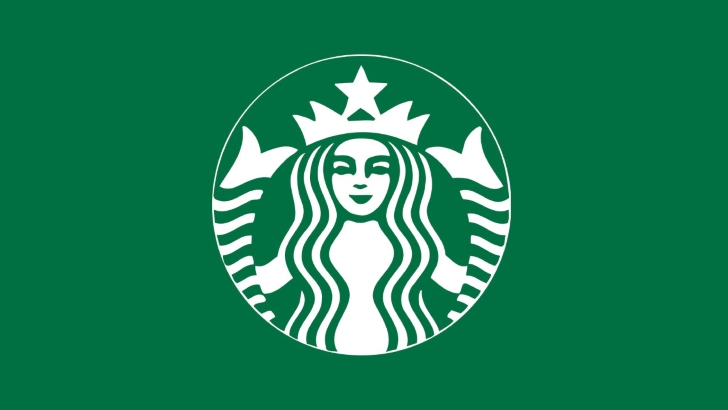 Starbucks
Starbucks Corporation is an American multinational chain of coffeehouses and roastery reserves headquartered in Seattle, Washington. It is the world's largest coffeehouse chain. As of November 2021, the company had 33,833 stores in 80 countries, 15,444 of which were located in the United States.
One of the first mega streaming services is served by this icon.
Netflix
Netflix, Inc. is an American subscription streaming service and production company. Launched on August 29, 1997, it offers a film and television series library through distribution deals as well as its own productions, known as Netflix Originals.
This is the top energy drink sold. What brand is represented by this logo?
Red Bull
Red Bull is a brand of energy drinks sold by Austrian company Red Bull GmbH. With 38% market share, it is the most popular energy drink brand as of 2019. Since its launch in 1987, more than 82 billion cans of Red Bull have been sold worldwide, including 7.9 billion in 2020.
Camera's rolling… What photo-sharing app does this camera represent?
Instagram
Instagram is an American photo and video sharing social networking service founded by Kevin Systrom and Mike Krieger. In April 2012, Facebook Inc. acquired the service for approximately US$1 billion in cash and stock.
This rum features a pirate-like figure. Name the brand.
Captain Morgan
Captain Morgan is a brand of flavored rums produced by British alcohol conglomerate Diageo. It is named after the 17th-century Welsh privateer of the Caribbean, Sir Henry Morgan.
What brand does this logo represent?
Ralph Lauren
Ralph Lauren Corporation is an American publicly traded fashion company that was founded in 1967 by American fashion designer Ralph Lauren. The company is headquartered in New York City, and it produces products ranging from the mid-range to the luxury segments.
Grab life by the horns… This animalistic trademark is what brand's symbol?
Ram
Ram Trucks, stylized as RAM and formerly known as the Ram Truck Division (of Chrysler), is an American brand of light to mid-weight trucks and other commercial vehicles, and a division of Stellantis (previously Fiat Chrysler Automobiles). It was established in a spin-off from Dodge in 2010 using the name of the Ram Pickup line of trucks. Ram Trucks' logo was originally used as Dodge's logo.
You're showing off this luxury brand when you wear this trademark.
Dolce & Gabbana
Dolce & Gabbana is an Italian luxury fashion house founded in 1985 in Legnano by Italian designers Domenico Dolce and Stefano Gabbana. They met each other in 1982 in Milan club and designed for the fashion brand of Giorgio Correggiari.
One of the first online banking services is represented by this icon.
PayPal
PayPal Holdings, Inc. is an American multinational financial technology company operating an online payments system in the majority of countries that support online money transfers, and serves as an electronic alternative to traditional paper methods such as checks and money orders.
Have a question? This app has the answer.
Quora
Quora is an American social question-and-answer website based in Mountain View, California. It was founded on June 25, 2009, and made available to the public on June 21, 2010. Users can collaborate by editing questions and commenting on answers that have been submitted by other users.
What clothing brand is characterized by this bird of prey?
American Eagle
American Eagle Outfitters, Inc., also known as American Eagle, is an American lifestyle, clothing, and accessories retailer headquartered at SouthSide Works in Pittsburgh, Pennsylvania. It was founded in 1977 by brothers Jerry and Mark Silverman as a subsidiary of Retail Ventures, Inc., a company that also owned and operated Silverman's Menswear. The Silvermans sold their ownership interests in 1991 to Jacob Price of Knoxville, Tennessee.
This little bird is the famous icon of what app?
Twitter
Twitter is an American microblogging and social networking service on which users post and interact with messages known as "tweets". Registered users can post, like, and retweet tweets, but unregistered users can only read those that are publicly available.
What sports brand is represented by this famous swoosh?
Nike
Nike, Inc. is an American multinational corporation that is engaged in the design, development, manufacturing, and worldwide marketing and sales of footwear, apparel, equipment, accessories, and services. The company is headquartered near Beaverton, Oregon, in the Portland metropolitan area.
Red, white, and blue. What is this patriotic soda?
Pepsi
PepsiCo, Inc. is an American multinational food, snack, and beverage corporation headquartered in Harrison, New York, in the hamlet of Purchase. PepsiCo's business encompasses all aspects of the food and beverage market. It oversees the manufacturing, distribution, and marketing of its products.
What defunct looped-video app does this icon represent?
Vine
Vine was an American social networking short-form video hosting service where users could share six-second-long, looping video clips. It was founded in June 2012; American microblogging website Twitter acquired it in October 2012, before its official release on January 24, 2013.
This logo was made popular by what sports brand?
New Balance
New Balance (NB) is an American sports footwear and apparel brand that was established in 1906. The brand was originally associated with the New Balance Arch Support Company. Today the brand is associated with New Balance Athletics, Inc., an American multinational corporation and its parent New Balance, Inc.
Want to watch a cat video? You can do it here.
YouTube
YouTube is an American online video sharing and social media platform headquartered in San Bruno, California. It was launched on February 14, 2005, by Steve Chen, Chad Hurley, and Jawed Karim. Owned by Google, it is the second most visited website, right after Google itself.
Lost your way? This app will show you where to go.
Google Maps
Google Maps is a web mapping platform and consumer application offered by Google. It offers satellite imagery, aerial photography, street maps, 360° interactive panoramic views of streets, real-time traffic conditions, and route planning for traveling by foot, car, bike, air and public transportation.
What gin features this crowned woman?
Bombay Sapphire
Bombay Sapphire is a brand of gin that is distilled by the Bombay Spirits Company, a subsidiary company of Bacardi, at Laverstoke Mill in the village of Laverstoke in the English county of Hampshire. The brand was first launched in 1986 by English wine-merchant IDV. In 1997 Diageo sold the brand to Bacardi.
What luxury brand of clothing does this insignia stand for?
Louis Vuitton
Louis Vuitton Malletier, commonly known as Louis Vuitton, is a French luxury fashion house and company founded in 1854 by Louis Vuitton. The label's LV monogram appears on most of its products, ranging from luxury bags and leather goods to ready-to-wear, shoes, watches, jewelry, accessories, sunglasses and books.
Green claw marks might give away this brand's logo.
Monster
Monster Energy is an energy drink that was created by Hansen Natural Company in April 2002. As of 2019, Monster Energy has a 35% share of the energy drink market, the second highest share after Red Bull.
Scrolling for recipes? Then you're probably familiar with this app.
Pinterest
Pinterest is an image sharing and social media service designed to enable saving and discovery of information on the internet using images, and on a smaller scale, animated GIFs and videos, in the form of pinboards.
What fashionable clothing brand is represented by this monogram?
Michael Kors
Michael Kors, which sells men's and women's ready-to-wear, accessories, watches, jewellery, footwear, and fragrance. Kors was the first women's ready-to-wear designer for the French house Celine, from 1997 to 2003. On January 2, 2019, Michael Kors Holdings Limited officially changed its name to Capri Holdings Limited (NYSE: CPRI).
Get your '90s best hits on. What music-shuffling app features this green icon?
Spotify
Spotify is a non-free Swedish audio streaming and media services provider founded on 23 April 2006 by Daniel Ek and Martin Lorentzon. It is one of the largest music streaming service providers with over 406 million monthly active users, including 180 million paying subscribers, as of December 2021.
As working from home was on the up and up, this video-conferencing app became a big hit during the pandemic times.
Zoom
Zoom Video Communications, Inc. is an American communications technology company headquartered in San Jose, California. It provides videotelephony and online chat services through a cloud-based peer-to-peer software platform used for video communications (Meetings), messaging (Chat), voice calls (Phone), conference rooms for video meetings (Rooms), virtual events (Events) and contact centers (Contact Center).
What video and messaging app is depicted here?
Telegram
Telegram is a freeware, cross-platform, cloud-based instant messaging service. The service also provides end-to-end encrypted video calling, VoIP, file sharing and several other features. It was launched for iOS on 14 August 2013 and Android in October 2013.
This sportswear logo is a simple monogram. Name that athletic brand.
Under Armour
Under Armour, Inc. is an American sports equipment company that manufactures footwear, sports and casual apparel. Under Armour's global headquarters are located in Baltimore, Maryland, with additional offices located in Amsterdam (European headquarters), Austin, Guangzhou, Hong Kong, Houston, Jakarta, London, Mexico City, Munich, New York City, Panama City (international headquarters), Paris, Pittsburgh, Portland, San Francisco, São Paulo, Santiago, Seoul, Shanghai (Greater Chinese headquarters), and Toronto.
You'll be the cool kid on the block with the vehicle represented by this trademark.
Tesla
Tesla, Inc. is an American electric vehicle and clean energy company based in Austin, Texas. Tesla designs and manufactures electric cars, battery energy storage from home to grid-scale, solar panels and solar roof tiles, and related products and services.
Red, white, and blue are the defining colors of what label?
Tommy Hilfiger
Tommy Hilfiger B.V., formerly known as Tommy Hilfiger Corporation and Tommy Hilfiger Inc., is an American premium clothing brand, manufacturing apparel, footwear, accessories, fragrances and home furnishings.
Surfing the net? What web browser is represented by this logo?
Chrome
Google Chrome is a cross-platform web browser developed by Google. It was first released in 2008 for Microsoft Windows, built with free software components from Apple WebKit and Mozilla Firefox. It was later ported to Linux, macOS, iOS, and Android, where it is the default browser.
Designed like a water chestnut, what automaker leads the way with this trademark?
Mitsubishi
Mitsubishi Motors Corporation is a Japanese multinational automobile manufacturer headquartered in Minato, Tokyo, Japan. In 2011, Mitsubishi Motors was the sixth-largest Japanese automaker and the 19th-largest worldwide by production.
Light up your love life! What dating app is fireproof?
Tinder
Tinder is an online dating and geosocial networking application. In Tinder, users "swipe right" to like or "swipe left" to dislike other users' profiles, which include their photo, a short bio, and a list of their interests.
Said to symbolize the brand's forward-thinking, this insignia demarks what make of vehicle?
Smart
Smart is a German automotive brand. Smart Automobile Co., Ltd. is a joint venture established by Mercedes-Benz AG and Zhejiang Geely Holding Group in 2019 and aimed at producing Smart-badged cars in China to be marketed globally. The venture is headquartered in Ningbo.
This digestif is represented by a stag whose story was inspired by a saint. Name that brand.
Jägermeister
Jägermeister is a German digestif made with 56 herbs and spices. Developed in 1934 by Wilhelm and Curt Mast, it has an alcohol by volume of 35%. The recipe has not changed since its creation and continues to be served in its signature green glass bottle.
What web browser is represented by this logo?
Opera
Opera is a multi-platform web browser developed by its namesake company Opera. Opera is a Chromium-based browser. It distinguishes itself from other browsers through its user interface and other features.
A crocodile insignia is ready to bite the head off of which brand of clothing?
Lacoste
Lacoste S.A. is a French company, founded in 1933 by tennis player René Lacoste, and entrepreneur André Gillier. It sells clothing, footwear, sportswear, eyewear, leather goods, perfume, towels and watches. The company can be recognised by its green alligator logo.
This luxury vehicle's logo meets at the horizon. Name that brand.
Infiniti
Infiniti is the luxury vehicle division of the Japanese automaker Nissan. Infiniti officially started selling vehicles on November 8, 1989, in North America. The marketing network for Infiniti-branded vehicles included dealers in over 50 countries in the 2010s.
Drive due north with this make and its red star emblem. Name that car.
Pontiac
Pontiac was an American automobile brand owned, manufactured, and commercialized by General Motors. Introduced as a companion make for GM's more expensive line of Oakland automobiles, Pontiac overtook Oakland in popularity and supplanted its parent brand entirely by 1933.
Your loved ones are just a phone call away with this app.
Skype
Skype is a proprietary telecommunications application operated by Skype Technologies, a division of Microsoft, best known for VoIP-based videotelephony, videoconferencing and voice calls. It also has instant messaging, file transfer, debit-based calls to landline and mobile telephones, and other features.
This sports brand will see that you're quick on your feet. Name that logo.
Puma
Puma SE, branded as Puma, is a German multinational corporation that designs and manufactures athletic and casual footwear, apparel and accessories, which is headquartered in Herzogenaurach, Bavaria, Germany. Puma is the third largest sportswear manufacturer in the world.