Which of the following ingredients does NOT belong on a traditional Big Mac?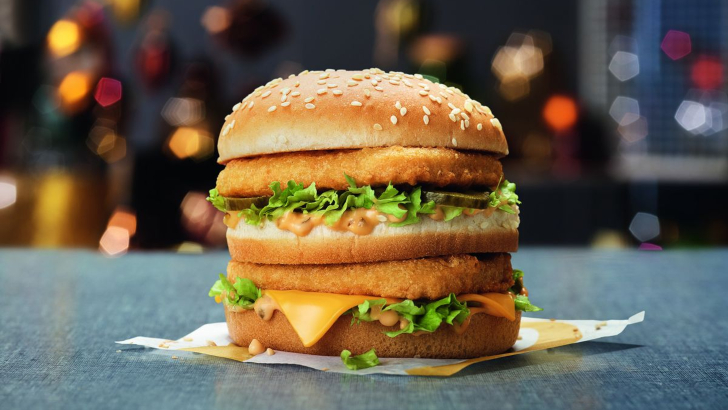 Olives
The Big Mac is a hamburger sold by the international fast food restaurant chain McDonald's. It was introduced in the Greater Pittsburgh area in 1967 and nationwide in 1968. It is one of the company's flagship products and signature dishes. The Big Mac contains two beef patties, sauce, lettuce, cheese, pickles, and onions on a three-piece sesame seed bun.
Which fast food restaurant is represented by the red roof shown in this photo?
Pizza Hut
Pizza Hut is an American multinational restaurant chain and international franchise founded in 1958 in Wichita, Kansas by Dan and Frank Carney. They serve their signature pan pizza and other dishes including pasta, breadsticks and desserts.
Which fast food chain was named after the founder's own daughter?
Wendy's
Wendy's is also named after a real person: Wendy Thomas, the daughter of founder Dave Thomas. She even served as the inspiration for the chain's iconic logo.
If a waiter tells the kitchen they need an order "on the fly," what exactly are they asking for?
Something cooked tomorrow
Something cooked in an airplane
Something cooked quickly
"On the fly" is a term used in the culinary business to describe an order that must be completed quickly. This might be due to a variety of factors, such as a service mistake, the guest's timeline, or a previously inedible food.
What is it called when a waiter or waitress works two shifts consecutively?
A Double
Working a double shift in the service business refers to working two consecutive shifts. Working from 10 a.m. to 10 p.m. is considered a double shift if one shift starts at 10 a.m. and ends at 4 p.m., and the following shift runs from 4 p.m. to 10 p.m.
This national restaurant chain uses curbside speakers to take your order and carhops that come out to your car to deliver food. What is the name of this restaurant that has food items such as burgers, hot dogs, and "Toaster" sandwiches?
Sonic
Sonic Corporation, founded as Sonic Drive-In and more commonly known as Sonic (stylized as SONIC), or "The Drive-In," is an American drive-in fast food restaurant chain owned by Inspire Brands, the parent company of Arby's and Buffalo Wild Wings. As of 2022, 3,549 Sonic restaurants are located in 46 U.S. states.
Which fast food chain is associated with the man in this photo?
KFC
KFC is an American fast food restaurant chain headquartered in Louisville, Kentucky, that specializes in fried chicken. It is the world's second-largest restaurant chain after McDonald's, with 22,621 locations globally in 150 countries as of December 2019. The chain is a subsidiary of Yum!
If you're hard at work crafting a big, juicy Whopper, where are you employed?
Burger King
The Whopper is a popular menu item associated with Burger King, a worldwide fast food business. This iconic burger has been around since 1957, and it's not going away anytime soon!
Which restaurant has a clown as its mascot?
McDonald's
McDonald's Corporation is an American multinational fast food corporation, founded in 1940 as a restaurant operated by Richard and Maurice McDonald, in San Bernardino, California, United States.
If you just had a customer walk up to a counter and order a $5 Footlong, where are you working?
Subway
Subway is an American multi-national fast food restaurant franchise that primarily sells submarine sandwiches, wraps, salads and beverages. Subway was founded by 17 year old Fred DeLuca and financed by Peter Buck in 1965 as Pete's Super Submarines in Bridgeport, Connecticut.
Which restaurant had a talking chihuahua as a mascot for many years?
Taco Bell
Gidget, the 15-year-old dog best known for her Taco Bell ad campaign, died of a stroke Tuesday in Los Angeles, California, said Sue Chipperton, her trainer. Uttering the words "Yo Quiero Taco Bell," Gidget's popularity soared in the fast food restaurant's ads.
What is the name of McDonald's most famous burger?
Big Mac
The Big Mac is one of the most universal menu items, with some news outlets going as far as to say that it's the world's most famous hamburger. McDonald's serves nearly 70 million people every day in over 120 countries.
Part of this restaurant's logo contains a man sitting in a chair leaning on an object. What is the name of this restaurant that combines country food with an "Old Country Store"?
Cracker Barrel
Cracker Barrel Old Country Store, Inc., doing business as Cracker Barrel, is an American chain of restaurant and gift stores with a Southern country theme. The company was founded by Dan Evins in 1969; its first store was in Lebanon, Tennessee.
If a customer says they want their pasta cooked "al dente," what do they mean?
They want their pasta cooked in the oven
They want their pasta cooked outside
They want their pasta firm
They want their pasta mushy
They want their pasta firm
Translated from Italian, al dente means "to the tooth". It is used to refer to pasta cooked so it is still "firm to bite" but not soft. Pasta cooked al dente, have a slightly resistant bite, as compared to overcooked pasta which has no resistance at all.
Following food service, who is responsible for clearing and resetting tables?
Busser
Busser clear and reset tables for restaurant customers. They prepare place settings, restock napkins, straws, and other items, and clean up after guests have finished their meals.
A red curved line under the last two letters of this diner chain turns them into a smiley face. What is the name of this restaurant that serves breakfast all-day and is known for their pancakes?
IHOP
In June 2015, IHOP introduced an updated logo, removing its decorative elements and adding a curved line under the "O" and "P" letters to resemble a smiley face.
Which restaurant chain specializes in rotisserie cooking, was founded in Massachusetts, and has been owned by McDonald's since 2000?
Boston Market
Boston Market, which has been established since 1985, specializes on rotisserie chicken and other meats. After experiencing financial difficulties as a result of its ambitions to grow abroad, the firm filed for bankruptcy in 1998 and was purchased by McDonald's in 2000.
If a customer orders their steak with no pink inside, how do they want their steak cooked?
Well-Done
The inside of a well-done steak should be gray-brown, with charring on the outside. While this technique of cooking eliminates some of the dangers of eating undercooked meat, it also increases the risk of overcooking.
What's the name of the area designated for servers to retrieve drinks made by the bartender?
Service Bar
A service bar is used to deliver bar drinks directly from the bartender to the waiters for their guests. Depending on the size of the bar, there can be a bartender dedicated solely to working the service bar while another tends to bar patrons.
What is the name of the Australian-inspired steakhouse that was actually started in Tampa, Florida, and popularized the "Bloomin' Onion"?
Outback Steakhouse
Outback Steakhouse. Despite its name, Outback Steakhouse is merely an Australian-inspired steak restaurant; it was founded in Tampa, Florida, in 1988.
Which restaurant has an extensive advertising campaign featuring cows that are bad at spelling?
Chick-fil-A
In 1995, a clever ad campaign starring some spelling-challenged Holsteins implored folks to "Eat mor chikin," and they did. Chick-fil-A grew by leaps and bounds, and it's now the top chicken chain in the country, with restaurants in 43 states and sales totaling more than $6 billion a year.
What is the most popular slogan for Burger King?
Have It Your Way
Burger King Tagline: "Have it your way. It just tastes better. Your Way, Right Away."
Which restaurant serves square hamburger patties, claiming not to cut corners?
Wendy's
It's also symbolic for a brand that doesn't like to "cut corners" with their products, which the Wendy's website claims is "really why our burgers are square." Ever since the beginning, when Dave Thomas founded Wendy's and hand-pattied the beef in the restaurant, the vision was to always serve customers fresh ingredients and partner with like-minded suppliers. Safety and quality are key with all Wendy's products, and the burgers are no exception.
What phrase might a diner waitress use to tell the kitchen to put all the condiments on a burger?
Drag it through the garden
Drag it through the garden
Wisconsin isn't the only place your diner is dragging things—"drag one through the garden" means putting all the condiments on it, and "drag one through Georgia" is a weird phrase for the even weirder beverage: cola with chocolate syrup.
This restaurant chain serves Asian-style food and was founded in 1993. What is the name of this restaurant whose name was created from a combination of its founders' names?
P.F. Chang's
Created in 1993 by Philip Chiang and Paul Fleming, P.F. Chang's is the first multi-unit restaurant concept in the U.S. to honor and celebrate the 2,000-year-old tradition of wok cooking as the center of the guest experience.
Within the food service industry, what is the acronym "QSR" short for?
Quiet Service Responsibilities
Quick Service Restaurant
A fast food restaurant, also known as a quick service restaurant (QSR) within the industry, is a specific type of restaurant that serves fast food cuisine and has minimal table service.
This famous seafood restaurant has a crustacean in its name and a picture of it in its logo. What is the name of this restaurant that was founded by Bill Darden in Florida in 1968?
Bubba Gump Shrimp Company
Red Lobster
Red Lobster Hospitality LLC is an American casual dining restaurant chain headquartered in Orlando, Florida.
If a customer orders a dirty martini, what garnish are they expected to receive?
Olives
Most places are going to have two options: olives or a twist (if you've ordered a dirty martini, you're getting olives). Olives will add a touch of salt; plus you can snack on them.
A major part of being a successful fast food restaurant is making sure the service is, well, fast! That's why many establishments incorporate hospitality "POS" systems. What does "POS" stand for?
Point Of Sale
Hospitality point of sale (POS) systems are incorporated in fast food restaurants around the world to make service as speedy as possible. This technology enables workers to quickly and effectively order, cook, and deliver meals.
Which burger chain uses the slogan "Yum"?
Red Robin
Red Robin was originally known as Sam's Tavern back in the 1940s, however the owner, Sam, changed the name to Sam's Red Robin due to a song he and his barbershop quartet used to sing. In 1969, the tavern was changed into a restaurant and the name was changed to just Red Robin. The company uses "Yum" as their slogan.
What is the subtitle of Popeyes, one of many famous chicken places?
Louisiana Kitchen
Popeyes Louisiana Kitchen, Inc., also known as Popeyes and formerly named Popeyes Chicken & Biscuits and Popeyes Famous Fried Chicken & Biscuits, is an American multinational chain of fried chicken fast food restaurants that was founded in 1972 in New Orleans, Louisiana and headquartered in Miami, Florida.
Which restaurant that specializes in chicken wings, used to be called BW-3 due to the word "Weck" formerly being a part of its name?
Buffalo Wild Wings
Buffalo Wild Wings is an American casual dining restaurant and sports bar franchise in the United States, Canada, India, Mexico, Oman, Panama, Philippines, Saudi Arabia, United Arab Emirates, and Vietnam which specializes in Buffalo wings and sauces.
No two burgers are more popular than the Big Mac and the Whopper. What's the main distinguishing difference between these mouth-watering creations?
The Big Mac has a 3-piece bun
The Whopper has no lettuce
The Whopper has a 3-piece bun
The Big Mac has a 3-piece bun
Invented in 1957, Burger King's Whopper is a quarter-pound flame-broiled burger with all the fixings. What sets McDonald's Big Mac apart from the Whopper is the third bun which separates the two 1.1-ounce patties.
Which pizza place had a bizarre mascot called the Noid?
Domino's
It was Domino's Pizza. The Noid originally opposed Domino's but was reworked to be in favor of it. All in all, it was not the most successful advertising campaign.
As of the beginning of 2020, what restaurant's slogan is "Eatin' Good in the Neighborhood"?
Applebee's
Applebee's reintroduced the well-known old tagline "Eatin' Good in the Neighborhood" in 2017. You may purchase a variety of items at Applebee's, including steak, seafood, sandwiches, salads, and more.
What are the terms "2-top," "4-top," etc. used to describe?
Amount of burger buns needed to complete an order
How many people seated at the bar
Number of orders in the kitchen at a time
Number of guests seated at a table
Number of guests seated at a table
This is the number of guests you seat at a table. The host will typically use this term when informing the server their table has been sat with new guests. A 2-top has 2 people, a 4-top has 4, and so on and so forth. "I just sat you with a 4-top near the bar."
What does the acronym "FOH" stand for?
Front of House
FOH: An acronym for Front of House, which refers to the front of the restaurant or the client facing areas like the bar or waiting area. Common FOH positions include servers, bartenders, barbacks, and hostesses. Server: The accepted word for waiter and waitress.
When speaking in restaurant lingo, what does it mean to "86" something?
Sell as many of a particular dish as possible
Serve it as soon as possible
Serve it with a side of dipping sauce
Refuse service or get rid of something
Refuse service or get rid of something
86 is a commonly used term in restaurants that indicates an item is out of stock or no longer available to be served to guests. This happens often, especially with seasonal, special, or limited-availability items, and it could also indicate that an inventory item has gone bad.
Which restaurant serves sub sandwiches but is more famous for its frozen fruit drinks?
Eegee's
It is Eegee's that serves frozen fruit drinks alongside its delicious sub sandwiches.
Which sandwich restaurant set itself apart by toasting its sub sandwiches?
Quiznos
It is Quiznos. While you can get your sub toasted just about anywhere nowadays, Quiznos was the first to implement toasting, and it was a good while before any other place adopted the option.
Your score was not that good.
You still have a lot to work on!
You just need to do a little better
You will surely passed next time!
You're a pro!
You definitely slayed this quiz, great job.