Can You Name This 70s Movie?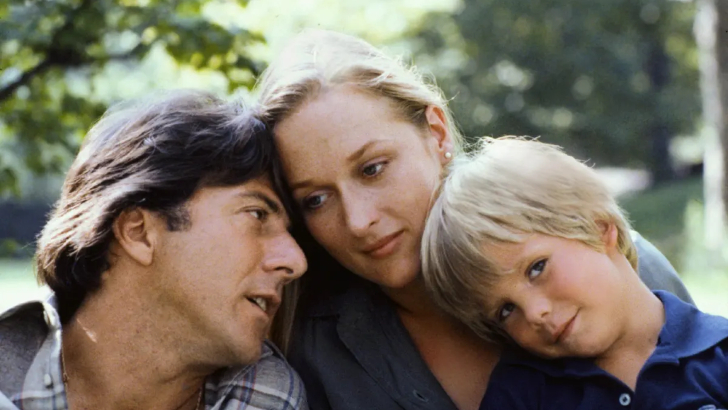 Kramer vs. Kramer
Kramer vs. Kramer is a 1979 American legal drama film written and directed by Robert Benton, based on Avery Corman's 1977 novel of the same name. The film stars Dustin Hoffman, Meryl Streep, Jane Alexander, and Justin Henry. It tells the story of a couple's divorce, its impact on their young son, and the subsequent evolution of their relationship and views on parenting.
Name This 70s Movie!
The Human Condition III: A Soldier's Prayer
Close Encounters of the Third Kind
Close Encounters of the Third Kind
Close Encounters of the Third Kind is a 1977 American science fiction film written and directed by Steven Spielberg, starring Richard Dreyfuss, Melinda Dillon, Teri Garr, Bob Balaban, Cary Guffey, and François Truffaut. It tells the story of Roy Neary, an everyday blue-collar worker in Indiana, whose life changes after an encounter with an unidentified flying object (UFO).
Can You Name This 70s Movie?
American Graffiti
American Graffiti is a 1973 American coming-of-age comedy-drama film directed by George Lucas, produced by Francis Ford Coppola, written by Willard Huyck, Gloria Katz and Lucas, and starring Richard Dreyfuss, Ron Howard (billed as Ronny Howard), Paul Le Mat, Harrison Ford, Charles Martin Smith, Cindy Williams, Candy Clark, Mackenzie Phillips, Bo Hopkins, and Wolfman Jack. Suzanne Somers, Kathleen Quinlan, Debralee Scott, and Joe Spano also appear in the film.
Name This 70s Movie!
National Lampoon's Animal House
National Lampoon's Animal House
National Lampoon's Animal House is a 1978 American comedy film directed by John Landis and written by Harold Ramis, Douglas Kenney and Chris Miller. It stars John Belushi, Peter Riegert, Tim Matheson, John Vernon, Verna Bloom, Thomas Hulce, Stephen Furst, and Donald Sutherland. The film is about a trouble-making fraternity whose members challenge the authority of the dean of the fictional Faber College.
Can You Name This 70s Movie?
Dirty Harry
Dirty Harry is a 1971 American neo-noir action thriller film produced and directed by Don Siegel, the first in the Dirty Harry series. Clint Eastwood plays the title role, in his first outing as San Francisco Police Department (SFPD) Inspector "Dirty" Harry Callahan. The film drew upon the real life case of the Zodiac Killer as the Callahan character seeks out a similar vicious psychopath.
Name This 70s Movie!
The Spy Who Came in from the Cold
Badlands
Badlands is a 1973 American neo-noir period crime drama film written, produced and directed by Terrence Malick, in his directorial debut. The film stars Martin Sheen and Sissy Spacek, and follows Holly Sargis (Spacek), a 15-year old who goes on a killing spree with her lover, Kit Carruther (Sheen); the film also stars Warren Oates and Ramon Bieri.
Can You Name This 70s Movie?
The Last Picture Show
The Last Picture Show is a 1971 American coming-of-age drama film directed and co-written by Peter Bogdanovich, adapted from the semi-autobiographical 1966 novel The Last Picture Show by Larry McMurtry. The film's ensemble cast includes Timothy Bottoms, Jeff Bridges, Ellen Burstyn, Ben Johnson, Cloris Leachman, and Cybill Shepherd.
Name This 70s Movie!
Little Big Man
Little Big Man is a 1970 American Western film directed by Arthur Penn and based on the 1964 novel Little Big Man by Thomas Berger. While broadly categorized as a western, or an epic, the film encompasses several literary/film genres, including comedy, drama and adventure. The film follows the life of a white man who was raised by members of the Cheyenne nation during the 19th century.
Can You Name This 70s Movie?
Carrie
Carrie is a 1976 American supernatural horror film directed by Brian De Palma from a screenplay written by Lawrence D. Cohen, adapted from Stephen King's 1974 epistolary novel of the same name. The film stars Sissy Spacek as Carrie White, a shy 16-year-old who is consistently mocked and bullied at school. The film also features Piper Laurie, Amy Irving, Nancy Allen, William Katt, P. J. Soles, Betty Buckley, and John Travolta in supporting roles.
Name This 70s Movie!
The Color of Pomegranates
Saturday Night Fever
Saturday Night Fever is a 1977 American dance drama film directed by John Badham and produced by Robert Stigwood. It stars John Travolta as Tony Manero, a young Italian-American man from the Brooklyn borough of New York who spends his weekends dancing and drinking at a local discothèque while dealing with social tensions and general restlessness and disillusionment with his life as he feels directionless and trapped in his working-class ethnic neighborhood.
Can You Name This 70s Movie?
Rocky
Rocky is a 1976 American sports drama film directed by John G. Avildsen and written by and starring Sylvester Stallone. It is the first installment in the Rocky franchise. It also stars Talia Shire, Burt Young, Carl Weathers, and Burgess Meredith. In the film, Rocky Balboa (Stallone), an uneducated, small-time club fighter and debt collector gets an unlikely shot at the world heavyweight championship held by Apollo Creed (Weathers).
Name This 70s Movie!
Every Which Way but Loose
Halloween
Halloween is a 1978 American independent slasher film directed and scored by John Carpenter, co-written with producer Debra Hill, and starring Donald Pleasence and Jamie Lee Curtis in her film debut, with P. J. Soles and Nancy Kyes appearing in supporting roles. The plot centers around a mental patient Michael Myers who was committed to a sanitarium for murdering his babysitting teenage sister on Halloween night when he was six years old.
Can You Name This 70s Movie?
Fast Times at Ridgemont High
Marathon Man
Marathon Man is a 1976 American thriller film directed by John Schlesinger. It was adapted by William Goldman from his 1974 novel of the same title and stars Dustin Hoffman, Laurence Olivier, Roy Scheider, William Devane and Marthe Keller. In the film, "Babe" Levy, a graduate student (Hoffman), becomes embroiled in a plot by Nazi war criminal Christian Szell (Olivier) to retrieve stolen diamonds from a safe deposit box owned by Szell's dead brother
Name This 70s Movie!
M*A*S*H
M*A*S*H (stylized on-screen as MASH) is a 1970 American black comedy war film directed by Robert Altman and written by Ring Lardner Jr., based on Richard Hooker's 1968 novel MASH: A Novel About Three Army Doctors. The picture is the only theatrically released feature film in the M*A*S*H franchise, and it became one of the biggest films of the early 1970s for 20th Century Fox.
Can You Name This 70s Movie?
The Sting
The Sting is a 1973 American caper film set in September 1936, involving a complicated plot by two professional grifters (Paul Newman and Robert Redford) to con a mob boss (Robert Shaw). The film was directed by George Roy Hill, who had directed Newman and Redford in the western Butch Cassidy and the Sundance Kid.
Name This 70s Movie!
Patton
Patton is a 1970 American epic biographical war film about U.S. General George S. Patton during World War II. It stars George C. Scott as Patton and Karl Malden as General Omar Bradley, and was directed by Franklin J. Schaffner from a script by Francis Ford Coppola and Edmund H. North, who based their screenplay on Patton: Ordeal and Triumph by Ladislas Farago and Bradley's memoir, A Soldier's Story.
Can You Name This 70s Movie?
On Her Majesty's Secret Service
Nashville
Nashville is a 1975 American satirical musical ensemble comedy-drama film directed by Robert Altman. The film follows various people involved in the country and gospel music businesses in Nashville, Tennessee, over a five-day period, leading up to a gala concert for a populist outsider running for President on the Replacement Party ticket.
Name This 70s Movie!
All the President's Men
All the President's Men is a 1976 American biographical political drama-thriller film about the Watergate scandal that brought down the presidency of Richard Nixon. Directed by Alan J. Pakula with a screenplay by William Goldman, it is based on the 1974 non-fiction book of the same name by Carl Bernstein and Bob Woodward, the two journalists investigating the Watergate scandal for The Washington Post.
Can You Name This 70s Movie?
All That Jazz
All That Jazz is a 1979 American musical drama film directed by Bob Fosse. The screenplay, by Robert Alan Aurthur and Fosse, is a semi-autobiographical fantasy based on aspects of Fosse's life and career as a dancer, choreographer and director. The film was inspired by Fosse's manic effort to edit his film Lenny while simultaneously staging the 1975 Broadway musical Chicago.
Name This 70s Movie!
Deliverance
Deliverance is a 1972 American survival thriller film produced and directed by John Boorman, and starring Jon Voight, Burt Reynolds, Ned Beatty, and Ronny Cox, with the latter two making their feature film debuts. The screenplay was adapted by James Dickey from his 1970 novel of the same name.
Unfortunately, you failed the quiz!
WE STILL GOT LOTS OF QUIZ THAT YOU CAN TRY
Average Score? Hmmm. Not bad!
BUT YOU CAN DO BETTER NEXT TIME
You slayed and aced this test!
YOU JUST PROVE THAT YOU ARE A TRIVIA GENIUS