What was the name of The Spice Girls' debut album in 1996?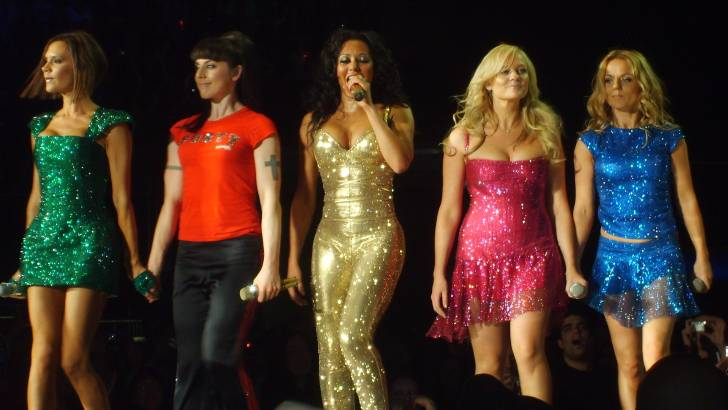 Spice
The Spice Girls debut album was released on September 19, 1996. The lead single from this album, "Wannabe", sold over 6 million copies worldwide and reached #1 in 35 countries.
What is the first song released by The Beatles?
Lucy in the Sky With Diamonds
Love Me Do
On October 5, 1962, the Beatles released their debut single, "Love Me Do." The song was a surprise hit that rose to Number 17 on one of the many weekly charts in the U.K.
In what year did The Beatles split up?
1970
April 10, 1970, when an ambiguous Paul McCartney "self-interview" was seized upon by the international media as an official announcement of a Beatles breakup.
Which song by Luis Fonsi and Daddy Yankee has the most views (of all time) on YouTube?
"Despacito" by Luis Fonsi feat. Daddy Yankee
"Shape of You" by Ed Sheeran
"See You Again" by Wiz Khalifa feat. Charlie Puth
"Uptown Funk" by Mark Ronson feat. Bruno Mars
"Despacito" by Luis Fonsi feat. Daddy Yankee
"Despacito," Luis Fonsi and Daddy Yankee's smash collaboration that was inescapable at its peak in 2017, currently holds the title of the most-watched music video on YouTube, boasting more than seven billion views at the time of publication (for reference, the Earth has a population of 7.5 billion).
In what year did American singer Whitney Houston pass away?
2012
Legendary pop singer Whitney Houston passed away at 48 years old in 2012. The American singer died in an accidental drowning due to coronary artery disease and cocaine intoxication in Beverly Hills, California. She is one of the best-selling recording artists of all time with her singing style, which was strongly inspired by gospel music.
Which Britney Spears album features the song "Gimme More"?
Black Out
American singer Britney Spears' "Gimme More" is the lead single off her fifth studio album, Blackout in 2007. The song received critical acclaim and peaked at number three on the US Billboard Hot 100, becoming her second highest-peaking single at the time. "Gimme More" features the singer's iconic line: "It's Britney, bitch."
Which Lorde album features the song "Ribs"?
Pure Heroine
"Ribs" is the third promotional single from Lorde's debut studio album, "Pure Heroine". The New Zealand singer's 2013 single is an ethereal lament about adolescence and the bittersweet experience of growing up. Lorde stated that the song was inspired by aging, which she described as "a big stress" of hers. Music critics generally gave "Ribs" praise for its lyrical content.
What is the first feature-length animated film that was released by Disney?
Snow White and the Seven Dwarfs
Snow White and the Seven Dwarfs
Snow White and the Seven Dwarfs movie made its Debut on December 21, 1937. It is the first and oldest feature-length animated film released by Disney.
Who directed Titanic, Avatar, and The Terminator?
James Cameron
James Cameron is a critically acclaimed film director known for some of the biggest box-office hits of all time. His most noted work, 1997's Titanic, became the first film to earn more than $1 billion and landed 14 Academy Award nominations. A science-fiction fan as a child, he went on to produce and direct films including The Terminator, Aliens, and Avatar.
Which Disney film features the song 'When You Wish Upon a Star?
Pinocchio
"When You Wish Upon a Star" is a song written by Leigh Harline and Ned Washington for Walt Disney's 1940 adaptation of Pinocchio. The original version was sung by Cliff Edwards in the character of Jiminy Cricket and is heard over the opening credits and in the final scene of the film.
Which film did Steven Spielberg win his first Oscar for Best Director?
Schindler's List
The movie "Schindler's List" in 1994 earned Spielberg his first Oscars for Best Picture and Best Director.
What was the first original Disney song to win an Academy Award for Best Original Song?
Someday My Prince Will Come
When You Wish Upon a Star
When You Wish Upon a Star
"When You Wish Upon a Star" — "Pinocchio" (1940) The first song from a Disney movie to win Oscar glory is Jiminy Cricket's ballad from "Pinocchio," sung by Cliff Edwards.
What short film featured Mickey Mouse's first appearance?
Plane Crazy
Created as a replacement for a prior Disney character, Oswald the Lucky Rabbit, Mickey first appeared in the short Plane Crazy, debuting publicly in the short film Steamboat Willie (1928), one of the first sound cartoons.
Which singer's real name is Stefani Joanne Angelina Germanotta?
Lady Gaga
Lady Gaga, by name of Stefani Joanne Angelina Germanotta, (born March 28, 1986, New York City, New York, U.S.), American singer-songwriter and performance artist, known for her flamboyant costumes, provocative lyrics, and strong vocal talents, who achieved enormous popular success with songs.
What year was Walt Disney born?
1901
Walter Elias Disney was born on December 5, 1901. He was an American entrepreneur, animator, writer, voice actor, and film producer. A pioneer of the American animation industry, he introduced several developments in the production of cartoons.
Which actor played the main character in the 1990 film "Edward Scissorhands"?
Johnny Depp
Edward Scissorhands is a 1990 American fantasy romance film directed by Tim Burton. It was produced by Burton and Denise Di Novi and written by Caroline Thompson from a story by her and Burton. Johnny Depp plays an artificial humanoid named Edward, an unfinished creation who has scissor blades instead of hands."
What is the name of the train station that services Hogwarts School?
Platform Nine-And-Three-Quarters
Hogsmeade Station
Even though the station services Hogwarts School, it is called Hogsmeade after the village it also caters to.
Legendary rock band AC/DC actually originates from which country?
Australia
AC/DC was founded in 1973 in Sydney, Australia by brothers Malcolm and Angus Young.
What is the name of Harry Potter's wife?
Ginny Weasley
Ginny is introduced in the first book of Harry Potter and the Philosopher's Stone, as the youngest sibling and only girl in the Weasley family. She becomes Harry's main love interest and eventually marries him at the conclusion of the series.
What do you call a person in the Harry Potter universe who can magically speak to serpents?
Parselmouth
A person who is conversant in parseltongue and can thus speak to snakes is called a parselmouth.
Failed. Try Again.
Well Done! You Still Topped the Quiz.
Excellent! You Know Well About Music and Movies.