Where did Baby Boomers go to watch movies?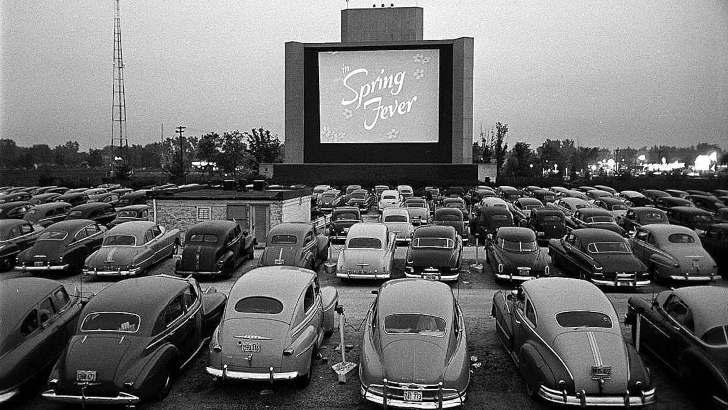 Drive-In Theater
A drive-in theater or drive-in cinema is a form of cinema structure consisting of a large outdoor movie screen, a projection booth, a concession stand and a large parking area for automobiles. Within this enclosed area, customers can view movies from the privacy and comfort of their cars.
Name This Actress!
Catherine Deneuve
Catherine Deneuve (born 22 October 1943) gained recognition for her portrayal of icy, aloof and mysterious beauties for various directors, including Luis Buñuel, François Truffaut and Roman Polanski. In 1985, she succeeded Mireille Mathieu as the official face of Marianne, France's national symbol of liberty.
What device did the Baby Boomers use to communicate with friends?
Rotary Phone
A rotary dial is a component of a telephone or a telephone switchboard that implements a signaling technology in telecommunications known as pulse dialing. On the rotary phone dial, the digits are arranged in a circular layout so that a finger wheel may be rotated with one finger from the position of each digit to a fixed stop position.
Name This Movie!
The Godfather
The Godfather is a 1972 crime film directed by Francis Ford Coppola and produced by Albert S. Ruddy. It stars Marlon Brando and Al Pacino as the leaders of a fictional New York crime family. The story, spanning 1945 to 1955, chronicles the family under the patriarch Vito Corleone.
Name This Talking Doll!
Chatty Cathy
Chatty Cathy is a pull string "talking" doll originally created by Ruth and Elliot Handler and manufactured by the Mattel toy company from 1959 to 1965. Chatty Cathy was on the market for six years and was the second most popular doll of the 1960s after Barbie (also made by Mattel).
Name This Music Legend!
The Beatles
The Beatles was an English rock band formed in Liverpool in 1960. With members John Lennon, Paul McCartney, George Harrison and Ringo Starr, they became widely regarded as the foremost and most influential music band in history.
Name This Baby Boomer Car!
1957 Chevy
The 1957 Chevrolet is a car which was introduced by Chevrolet in September 1956 for the 1957 model year. It was available in three series models: the upscale Bel Air, the mid-range Two-Ten, and the One-Fifty. A two-door station wagon, the Nomad, was produced as a Bel Air model.
Name This Actress!
Audrey Hepburn
Audrey Hepburn was a British actress, model, dancer and humanitarian. Recognised as a film and fashion icon, Hepburn was active during Hollywood's Golden Age. She was ranked by the American Film Institute as the third-greatest female screen legend in Golden Age Hollywood.
Name This Baby Boomer Device!
Transistor Radio
A transistor radio is a small portable radio receiver that uses transistor-based circuitry. Following their development in 1954, made possible by the invention of the transistor in 1947, they became the most popular electronic communication device in history, with billions manufactured during the 1960s and 1970s.
Name This Movie!
The Graduate
The Graduate is a 1967 romantic comedy-drama film directed by Mike Nichols. The film tells the story of 21-year-old Benjamin Braddock, a recent college graduate with no well-defined aim in life, who is seduced by an older woman, Mrs. Robinson, and then falls in love with her daughter Elaine.
What device did the Baby Boomers use to create documents?
Typewriter
A typewriter is a mechanical or electromechanical machine for writing characters similar to those produced by printer's movable type. Typically, a typewriter has an array of keys, and pressing one causes a different single character to be produced on the paper, by causing a ribbon with dried ink to be struck against the paper by a type element similar to the sorts used in movable type letterpress printing.
Name This TV Show!
Star Trek: The Original Series
The Adventures of Ozzie and Harriet
Star Trek: The Original Series
Star Trek was science fiction television series created by Gene Roddenberry that follows the adventures of the starship USS Enterprise (NCC-1701) and its crew. The show is set in the Milky Way galaxy, roughly during the 2260s. The ship and crew are led by Captain James T. Kirk, first officer and science officer Spock, and chief medical officer Leonard McCoy.
Name This Baby Boomer Toy!
Silly Putty
Silly Putty is a toy based on silicone polymers that have unusual physical properties. It bounces, but it breaks when given a sharp blow, and it can also flow like a liquid. It contains a viscoelastic liquid silicone, a type of non-Newtonian fluid, which makes it act as a viscous liquid over a long time period but as an elastic solid over a short time period.
Name This Music Legend!
Crosby, Stills, Nash & Young
The Rolling Stones
The Rolling Stones is an English rock band formed in London, England, in 1962. The band was at the forefront of the British Invasion of bands that became popular in the United States in 1964 and were identified with the youthful and rebellious counterculture of the 1960s.
Name This Baby Boomer Car!
Pontiac GTO
The Pontiac GTO is an automobile that was manufactured by American automobile manufacturer Pontiac from 1964 to 1974 model years, and by GM's subsidiary Holden in Australia from 2004 to 2006 model years. The first generation of the GTO was a muscle car produced in the 1960s and the 1970s.
Name This Iconic Baby Boomer TV Character!
Auggie Doggie & Doggie Daddy
Huckleberry Hound
Huckleberry "Huck" Hound is a fictional cartoon character, a blue anthropomorphic coonhound that speaks with a Southern drawl and has a relaxed, sweet, and well-intentioned personality. He first appeared in the series The Huckleberry Hound Show. The cartoon was one of six TV shows to win an Emmy Award in 1960 as an "Outstanding Achievement in the Field of Children's Programming"
Name This Movie!
Star Wars: Episode IV – A New Hope
2001: A Space Odyssey
2001: A Space Odyssey is a 1968 epic science fiction film produced and directed by Stanley Kubrick. The film, which follows a voyage to Jupiter with the sentient computer HAL after the discovery of a mysterious black monolith affecting human evolution, deals with themes of existentialism, human evolution, technology, artificial intelligence, and the possibility of extraterrestrial life.
Name This Music Legend!
Tom Petty and the Heartbreakers
The Beach Boys
The Beach Boys was an American rock band formed in Hawthorne, California, in 1961. Distinguished by their vocal harmonies and early surf songs, they are one of the most influential acts of the rock era. The band drew on the music of jazz-based vocal groups, 1950s rock and roll, and black R&B to create their unique sound.
Name This Baby Boomer Car!
Pontiac Trans Am
The Trans Am was a specialty package for the Firebird, typically upgrading handling, suspension, and horsepower, as well as minor appearance modifications such as exclusive hoods, spoilers, fog lights and wheels. Four distinct generations were produced between 1969 and 2002. These cars were built on the F-body platform, which was also shared by the Chevrolet Camaro.
Name This Actor!
Jean-Paul Belmondo
Jean-Paul Belmondo (born 9 April 1933) is a French actor initially associated with the New Wave of the 1960s and one of the biggest French film stars of the 1960s, 1970s and 1980s. His best known credits include Breathless (1960) and That Man from Rio (1964).
Name This TV Show!
The Andy Griffith Show
The Andy Griffith Show was a situation comedy which aired on CBS from October 3, 1960, to April 1, 1968. The series partially originated from an episode of The Danny Thomas Show. The show originally starred Andy Griffith in the role of Andy Taylor, the widowed sheriff of the fictional small community of Mayberry, North Carolina.
Name This Baby Boomer Food!
TV Dinners
The invention of the microwave was a sign of a new cultural trend… making things quickly. Subsequently, TV dinners could be produced very quickly, allowing families to literally heat up a meal and consume it while they settled down in front of the television set. The dinners combined eating and television like never before.
Name This TV Show!
Elvis Presley
Elvis Aaron Presley was an American singer and actor. Regarded as one of the most significant cultural icons of the 20th century, he is often referred to as the "King of Rock and Roll" or simply "the King".
Name This TV Show!
Rowan & Martin's Laugh-In
The Twilight Zone
The Twilight Zone was a media franchise based on the anthology television series created by Rod Serling. The episodes are in various genres, including fantasy, science fiction, suspense, and psychological thriller, often concluding with a macabre or unexpected twist, and usually with a moral.
Name This Baby Boomer Toy Appliance!
Easy Bake Oven
The Easy-Bake Oven is a working toy oven which Kenner introduced in 1963, and which Hasbro still manufactured as of late April 2016. The original toy used an ordinary incandescent light bulb as a heat source; current versions use a true heating element. Kenner sold 500,000 Easy-Bake Ovens in the first year of production. By 1997, more than 16 million Easy-Bake Ovens (in 11 models) had been sold.
Name This Movie!
A Clockwork Orange
A Clockwork Orange is a 1971 dystopian crime film adapted, produced, and directed by Stanley Kubrick, based on Anthony Burgess's 1962 novel of the same name. It employs disturbing, violent images to comment on psychiatry, juvenile delinquency, youth gangs, and other social, political, and economic subjects in a dystopian near-future Britain.
Name This Actor!
Claudia Cardinale
Claudia Cardinale (born 15 April 1938) is an Italian Tunisian film actress and sex symbol who appeared in some of the most acclaimed European films of the 1960s and 1970s, mainly Italian or French, but also in several English films. Cardinale won the "Most Beautiful Italian Girl in Tunisia" competition in 1957, the prize being a trip to Italy, which quickly led to film contracts.
Name This Baby Boomer Toy!
Mr. Potato Head
Mr. Potato Head is an American toy consisting of a plastic model of a potato which can be decorated with a variety of plastic parts that can attach to the main body. These parts usually include ears, eyes, shoes, a hat, a nose, and a mouth. The toy was invented and developed by George Lerner in 1949, and first manufactured and distributed by Hasbro in 1952.
Name This Movie!
One Flew Over the Cuckoo's Nest
Monty Python and the Holy Grail
One Flew Over the Cuckoo's Nest
One Flew Over the Cuckoo's Nest is a 1975 comedy-drama film directed by Miloš Forman, based on the 1962 novel One Flew Over the Cuckoo's Nest by Ken Kesey. The film stars Jack Nicholson, and features a supporting cast of Louise Fletcher, William Redfield, Will Sampson, and Brad Dourif. The film also featured Christopher Lloyd in his film debut.
Name This Actor!
Anouk Aimée
Anouk Aimée (born 27 April 1932) is a French film actress, who has appeared in 70 films since 1947, having begun her film career at age 14. In her early years she studied acting and dance besides her regular education. Among her films are Federico Fellini's La Dolce Vita (1960), after which she was considered a "rising star who exploded" onto the film world.
Name This TV Show!
I Love Lucy
I Love Lucy was a sitcom that originally ran on CBS from October 15, 1951, to May 6, 1957. The show starred Lucille Ball, her real-life husband Desi Arnaz, Vivian Vance, and William Frawley. It followed the life of Lucy Ricardo (Ball), a middle class housewife in 1950s New York City, who either concocted plans with her best friends (Vance & Frawley) to appear alongside her bandleader husband Ricky Ricardo (Arnaz).
Name This Baby Boomer Toy!
Hot Wheels
Hot Wheels is a brand of 1:64, 1:43, 1:18 and 1:50 scale die-cast toy cars introduced by American toy maker Mattel in 1968. Many automobile manufacturers have since licensed Hot Wheels to make scale models of their cars, allowing the use of original design blueprints and detailing.
Name This Music Legend!
The Who
The Who is an English rock band formed in 1964. It is considered one of the most influential rock bands of the 20th century, selling over 100 million records worldwide and holding a reputation for their live shows and studio work.
Name This Baby Boomer Car!
Chevrolet El Camino
Chevrolet El Camino is a coupé utility vehicle that was produced by Chevrolet between 1959–60 and 1964–1987. Unlike a pickup truck, the El Camino was adapted from a two-door station wagon platform that integrated the cab and cargo bed into the body. Introduced in the 1959 model year in response to the success of the Ford Ranchero coupé utility, its first run lasted only two years.
Name This Actor!
Paul Newman
Paul Leonard Newman (January 26, 1925 – September 26, 2008) won and was nominated for numerous awards, winning an Academy Award for his performance in the 1986 film The Color of Money, a BAFTA Award, a Screen Actors Guild Award, a Cannes Film Festival Award, an Emmy Award, and many others.
Name This Baby Boomer Toy!
Viewmaster
View-Master is the trademark name of a line of special-format stereoscopes and corresponding View-Master "reels", which are thin cardboard disks containing seven stereoscopic 3-D pairs of small transparent color photographs on film. It was manufactured and sold by Sawyer's.
Name This TV Show!
Leave It to Beaver
Leave It to Beaver was a sitcom about an inquisitive and often naïve boy, Theodore "The Beaver" Cleaver, and his adventures at home, in school, and around his suburban neighborhood. The show also starred Barbara Billingsley and Hugh Beaumont as Beaver's parents, June and Ward Cleaver, and Tony Dow as Beaver's brother Wally.
Name This Baby Boomer Childhood Character!
Bob Keeshan
Robert James Keeshan (June 27, 1927 – January 23, 2004) was an American television producer and actor. He created and played the title role in the children's television program Captain Kangaroo, which ran from 1955 to 1984, the longest-running nationally broadcast children's television program of its day.
Name This Baby Boomer Fashion Trend!
Bell Bottoms
In the 1960s, bell-bottoms became fashionable for both men and women in Europe and North America. Often made of denim, they flared out from the bottom of the calf, and had slightly curved hems and a circumference of 18 inches (46 cm) at the bottom of each leg opening. They were usually worn with Cuban-heeled shoes, clogs, or Chelsea boots.
Name This Baby Boomer Car!
1967 Volkswagen Beetle
The Volkswagen Beetle—officially the Volkswagen Type 1, informally in German the Käfer (literally "beetle"), in parts of the English-speaking world the Bug, and known by many other nicknames in other languages—is a two-door, rear-engine economy car, intended for up to four or five passengers, that was manufactured and marketed by German automaker Volkswagen (VW) from 1938 until 2003.
You got a low score, but keep trying!
"Only those who dare to fail greatly can ever achieve greatly." – Robert F. Kennedy
You got an average score!
Can you do better next time?
Congratulations! You passed
#CERTIFIEDBABYBOOMER