In which of the following movies does an alien stranded on Earth struggle to find a way home?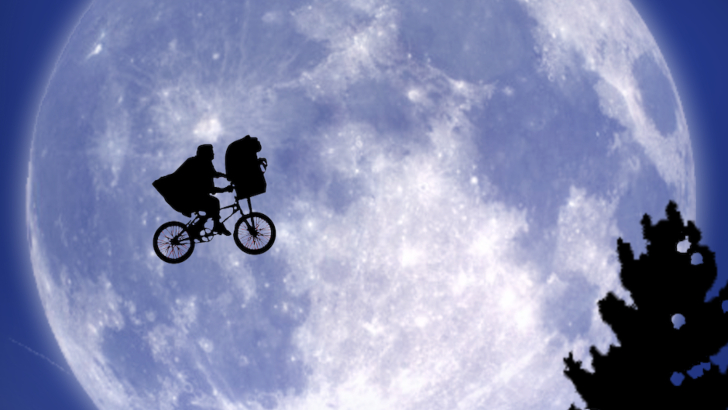 E.T. the Extra-Terrestrial
E.T. the Extra-Terrestrial
E.T. the Extra-Terrestrial (or simply E.T.) is a 1982 American science fiction film produced and directed by Steven Spielberg and written by Melissa Mathison. It tells the story of Elliott, a boy who befriends an extraterrestrial dubbed E.T., who is left behind on Earth. Along with his friends and family, Elliott must find a way to help E.T. return home while avoiding the government.
Marty McFly accidentally travels back in time to 1955.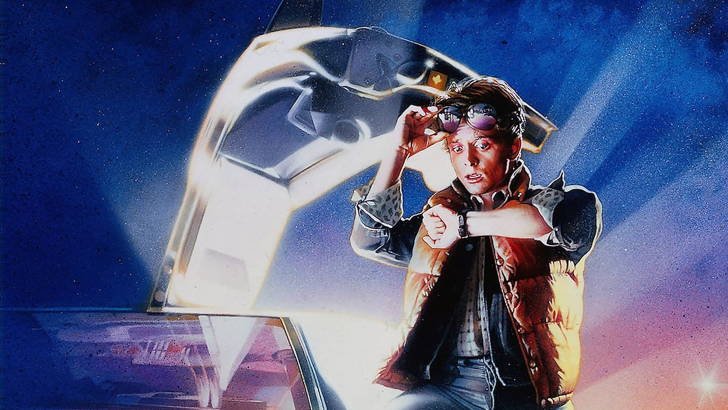 Back to the Future
Back to the Future is a 1985 American science fiction film directed by Robert Zemeckis, and written by Zemeckis and Bob Gale. It stars Michael J. Fox, Christopher Lloyd, Lea Thompson, Crispin Glover, and Thomas F. Wilson. Set in 1985, the story follows Marty McFly (Fox), a teenager accidentally sent back to 1955 in a time-traveling DeLorean automobile built by his eccentric scientist friend Doctor Emmett "Doc" Brown (Lloyd).
Three New York City academics start new careers as ghost removal experts.
My Stepmother is an Alien
Ghostbusters
Ghostbusters is a 1984 American supernatural comedy film directed and produced by Ivan Reitman, and written by Dan Aykroyd and Harold Ramis. It stars Bill Murray, Aykroyd, and Ramis as Peter Venkman, Ray Stantz, and Egon Spengler, three eccentric parapsychologists who start a ghost-catching business in New York City.
A New York police officer joins a clandestine organization charged with protecting Earth from the very worst characters the universe has to offer.
Men in Black
Men in Black is a 1997 American science fiction action comedy film directed by Barry Sonnenfeld, produced by Walter F. Parkes and Laurie MacDonald and written by Ed Solomon. Loosely based on the Men in Black comic book series created by Lowell Cunningham and Sandy Carruthers, the film stars Tommy Lee Jones and Will Smith as two agents of a secret organization called the Men in Black, who supervise extraterrestrial lifeforms who live on Earth and hide their existence from ordinary humans.
Russell Crowe stars as a Roman General who seeks revenge for his family's murder.
Gladiator
Gladiator is a 2000 epic historical drama film directed by Ridley Scott and written by David Franzoni, John Logan, and William Nicholson. The film was co-produced and released by DreamWorks Pictures and Universal Pictures. DreamWorks Pictures distributed the film in North America while Universal Pictures released it internationally through United International Pictures.
A disabled marine takes the form of a member of the indigenous race on the planet Pandora. As he lives among them, he begins to sympathize with their way of life.
Avatar
Avatar is a 2009 American epic science fiction film directed, written, produced, and co-edited by James Cameron and starring Sam Worthington, Zoe Saldana, Stephen Lang, Michelle Rodriguez, and Sigourney Weaver. The film is set in the mid-22nd century when humans are colonizing Pandora, a lush habitable moon of a gas giant in the Alpha Centauri star system, in order to mine the valuable mineral unobtanium.
A hotheaded fighter pilot strives to be the best in his class and also get the girl.
Top Gun
Top Gun is a 1986 American action drama film directed by Tony Scott, and produced by Don Simpson and Jerry Bruckheimer, in association with Paramount Pictures. The screenplay was written by Jim Cash and Jack Epps Jr., and was inspired by an article titled "Top Guns", published in California magazine three years earlier.
Star Michael Keaton ad-libbed many of his lines in this Tim Burton fantasy.
Beetlejuice
Beetlejuice is a 1988 American fantasy comedy film directed by Tim Burton, produced by The Geffen Company, and distributed by Warner Bros. Pictures. Beetlejuice was a critical and commercial success, grossing US$74.2 million from a budget of US$15 million. It won the Academy Award for Best Makeup and three Saturn Awards: Best Horror Film, Best Makeup, and Best Supporting Actress for Sylvia Sidney.
A genetic engineering company manages to recreate extinct life from 65 million years in the past.
Jurassic Park
Jurassic Park is a 1993 American science fiction action film directed by Steven Spielberg and produced by Kathleen Kennedy and Gerald R. Molen. It is the first installment in the Jurassic Park franchise, and the first film in the Jurassic Park original trilogy, and is based on the 1990 novel of the same name by Michael Crichton and a screenplay written by Crichton and David Koepp.
An underground computer hacker finds out the life he and every other person is living an elaborate fantasy concocted by the machines that are enslaving the human race.
The Matrix
The Matrix is a 1999 science fiction action film written and directed by the Wachowskis. It is the first installment in The Matrix film series, starring Keanu Reeves, Laurence Fishburne, Carrie-Anne Moss, Hugo Weaving, and Joe Pantoliano.
Nicolas Cage and John Travolta star in this classic 1990s film where they trade faces.
Face/Off
Face/Off is a 1997 American action thriller film directed by John Woo, written by Mike Werb and Michael Colleary, and starring John Travolta and Nicolas Cage.The first Hollywood film in which Woo was given major creative control, Face/Off earned critical acclaim for the performances by Cage and Travolta and its stylized action sequences.
Buddy cop films don't get much better than this classic action flick directed by Richard Donner.
Lethal Weapon
Lethal Weapon is a 1987 American buddy cop action film directed and co-produced by Richard Donner, written by Shane Black, and co-produced by Joel Silver. The film was released on March 6, 1987. Upon its release, Lethal Weapon grossed over $120 million (against a production budget of $15 million) and was nominated for the Academy Award for Best Sound.
A member of the LAPD is sent to infiltrate a street racing crew, only for the officer to become enamored by the lifestyle in this 2001 racing flick.
The Fast and the Furious
Fast & Furious (also known as The Fast and the Furious) is a media franchise centered on a series of action films that are largely concerned with street racing, heists, spies, and family. The franchise also includes short films, a television series, live shows, video games and theme park attractions. It is distributed by Universal Pictures.
A stodgy Southern widow grudgingly befriends her African-American chauffeur.
Driving Miss Daisy
Driving Miss Daisy is a 1989 American comedy-drama film directed by Bruce Beresford and written by Alfred Uhry, based on Uhry's 1987 play of the same name. The film stars Jessica Tandy, Morgan Freeman, and Dan Aykroyd. Freeman reprised his role from the original Off-Broadway production.
Hijinks ensue at a "members-only" golf club.
Caddyshack
Caddyshack is a 1980 American sports comedy film directed by Harold Ramis, written by Brian Doyle-Murray, Harold Ramis, and Douglas Kenney, and starring Chevy Chase, Rodney Dangerfield, Ted Knight, Michael O'Keefe, and Bill Murray. Doyle-Murray also has a supporting role.
Struggling actor Michael Dorsey poses as a woman to land a job on a soap opera.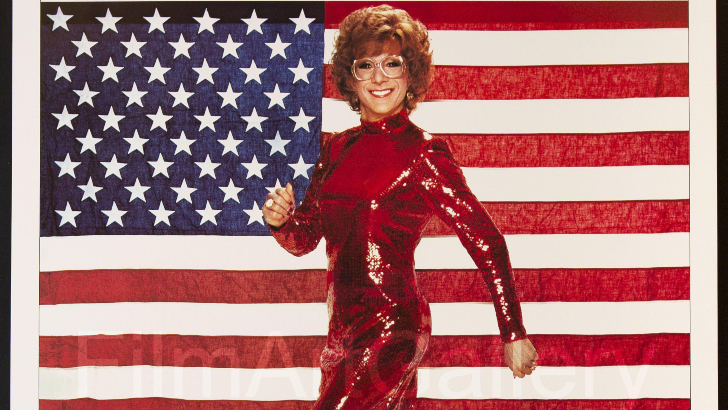 Tootsie
Tootsie is a 1982 American satirical romantic comedy film directed by Sydney Pollack and starring Dustin Hoffman. Its supporting cast includes Pollack, Jessica Lange, Teri Garr, Dabney Coleman, Bill Murray, Charles Durning, George Gaynes, Geena Davis (in her debut) and Doris Belack.
A suburban Chicago high schooler takes the sick day to end all sick days.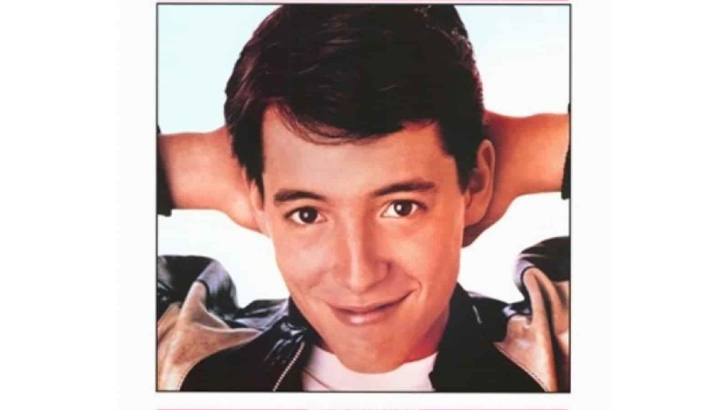 Ferris Bueller's Day Off
Ferris Bueller's Day Off is a 1986 American teen comedy film written, co-produced, and directed by John Hughes, co-produced by Tom Jacobson, and starring Matthew Broderick, Mia Sara, and Alan Ruck. It tells the story of a high school slacker who skips school for a day in Chicago and regularly breaks the fourth wall to explain his techniques and inner thoughts.
Ellen Ripley is back fighting extraterrestrial beings that have taken over a moon colony.
The Ghost and the Darkness
Aliens
Aliens is a 1986 science fiction action film written and directed by James Cameron. It is the sequel to the 1979 science fiction horror film Alien, and the second film in the Alien franchise. Set in the far future, the film stars Sigourney Weaver as Ellen Ripley, the sole survivor of an alien attack on her ship.
A group of unlikely heroes travel throughout the cosmos on a mission to stop a psychotic warlord from exterminating the entire population of a planet.
Guardians of the Galaxy
Guardians of the Galaxy (retroactively referred to as Guardians of the Galaxy Vol. 1) is a 2014 American superhero film based on the Marvel Comics superhero team of the same name. Produced by Marvel Studios and distributed by Walt Disney Studios Motion Pictures, it is the 10th film in the Marvel Cinematic Universe (MCU).
One unlucky family's home is besieged by ghosts.
Poltergeist
Poltergeist is a 1982 American supernatural horror film directed by Tobe Hooper and written by Steven Spielberg, Michael Grais and Mark Victor from a story by Spielberg. It stars JoBeth Williams, Craig T. Nelson, Heather O'Rourke and Beatrice Straight, and was produced by Spielberg and Frank Marshall.
A utility worker from the Midwest experiences a vision after having an experience with an extraterrestrial spacecraft.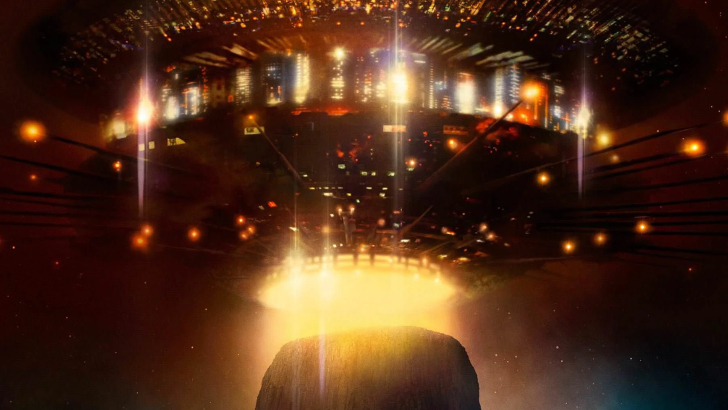 Close Encounters of the Third Kind
Close Encounters of the Third Kind
Close Encounters of the Third Kind is a 1977 American science fiction film written and directed by Steven Spielberg, starring Richard Dreyfuss, Melinda Dillon, Teri Garr, Bob Balaban, Cary Guffey, and François Truffaut. It tells the story of Roy Neary, an everyday blue-collar worker in Indiana, whose life changes after an encounter with an unidentified flying object (UFO).
A small band of fighters stand up to a technologically-superior alien race that's intent on exterminating the human race.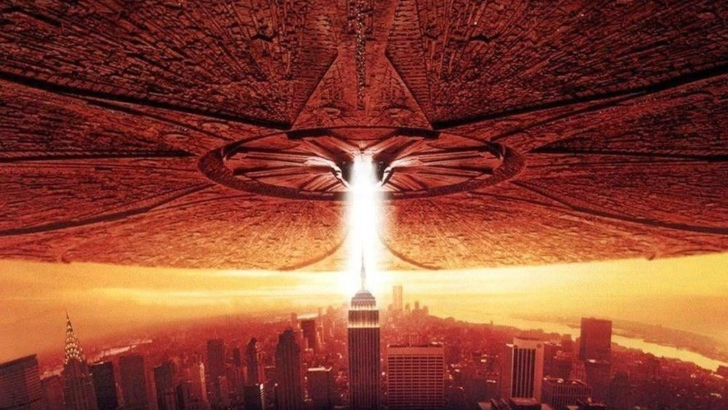 Independence Day
Independence Day is a 1996 American science fiction action film directed by Roland Emmerich and written by Emmerich and Dean Devlin. It stars an ensemble cast that includes Will Smith, Bill Pullman, Jeff Goldblum, Mary McDonnell, Judd Hirsch, Margaret Colin, Randy Quaid, Robert Loggia, James Rebhorn, Harvey Fierstein, and Harry Connick.
The serious students at a preppy boys boarding school in New England are shaken up by an inspiring English teacher.
Fast Times at Ridgemont High
Dead Poets Society
Dead Poets Society is a 1989 American teen comedy-drama film written by Tom Schulman, directed by Peter Weir, and starring Robin Williams. Set in 1959 at the fictional elite conservative Vermont boarding school Welton Academy, it tells the story of an English teacher who inspires his students through his teaching of poetry.
This 2003 martial arts film was written and directed by Quentin Tarantino. It serves as his homage to classic grindhouse cinema.
Kill Bill: Vol. 1
Kill Bill: Volume 1 is a 2003 American martial arts film written and directed by Quentin Tarantino. It stars Uma Thurman as the Bride, who swears revenge on a team of assassins (Lucy Liu, Michael Madsen, Daryl Hannah, and Vivica A. Fox) and their leader, Bill (David Carradine), after they try to kill her and her unborn child.
Bruce Willis plays an ex-military taxi driver who's tasked with saving the world from a dark extraterrestrial threat.
The Fifth Element
The Fifth Element is a 1997 English-language French science fiction action film directed by Luc Besson and co-written by Besson and Robert Mark Kamen from a story by Besson. The film won in categories at the British Academy Film Awards, the César Awards, the Cannes Film Festival, and the Lumières Awards, but also received nominations at the Golden Raspberry and Stinkers Bad Movie Awards.
This baseball film put "If you build it, he will come" into the American lexicon.
Field of Dreams
Field of Dreams is a 1989 American sports fantasy drama film written and directed by Phil Alden Robinson, based on W. P. Kinsella's 1982 novel Shoeless Joe. The film stars Kevin Costner as a farmer who builds a baseball field in his cornfield that attracts the ghosts of baseball legends, including Shoeless Joe Jackson (Ray Liotta) and the Chicago Black Sox. Amy Madigan, James Earl Jones, and Burt Lancaster (in his final film role) also star.
A pair of cops have to go back to high school in this 2012 action/comedy.
21 Jump Street
21 Jump Street is a 2012 American buddy cop action comedy film directed by Phil Lord and Christopher Miller (in their live action directional debuts), written by Jonah Hill and Michael Bacall, and starring Hill and Channing Tatum.
After an alien race broadcasts a signal back to Earth, Jodie Foster vies to be the human being chosen to represent the entire planet in the first meeting.
Contact
Contact is a 1997 American science fiction drama film directed by Robert Zemeckis, based on the 1985 novel by Carl Sagan. Sagan and his wife Ann Druyan wrote the story outline for the film. It stars Jodie Foster as Dr. Eleanor "Ellie" Arroway, a SETI scientist who finds evidence of extraterrestrial life and is chosen to make first contact.
A humble waste disposal droid sets out on an amazing journey that ends up having a major influence on the future of the human race.
A.I. Artificial Intelligence
WALL-E
WALL-E is a 2008 American computer-animated science fiction film produced by Pixar Animation Studios and released by Walt Disney Pictures. It was directed and co-written by Andrew Stanton, produced by Jim Morris, and co-written by Jim Reardon.
This 2009 film paints a dystopian world where a race of extraterrestrials are forced to live in an impoverished area on Earth.
District 9
District 9 is a 2009 science fiction action film directed by Neill Blomkamp in his feature film debut, written by Blomkamp and Terri Tatchell, and produced by Peter Jackson and Carolynne Cunningham. It is a co-production of New Zealand, the United States and South Africa.
An ex-cop is tasked with hunting down a group of human clones called "replicants" in future Los Angeles.
Blade Runner
Blade Runner is a 1982 science fiction film directed by Ridley Scott, and adapted by Hampton Fancher and David Peoples. Starring Harrison Ford, Rutger Hauer, Sean Young, and Edward James Olmos.
This Oscar nominated film follows thirty years in the extraordinarily tough life of Celie, an African-American woman in the South.
The Color Purple
The Color Purple is a 1985 American epic coming-of-age period drama film directed by Steven Spielberg and written by Menno Meyjes, based on the Pulitzer Prize-winning 1982 novel of the same name by Alice Walker. It was Spielberg's eighth film as a director, and marked a turning point in his career, as it was a departure from the summer blockbusters for which he had become known.
A thief is able to enter the dreams of his victims and steal valuable information. Things get dangerous when he's asked to plant an idea in someone's mind.
Inception
Inception is a 2010 science fiction action film written and directed by Christopher Nolan, who also produced the film with Emma Thomas, his wife. The film stars Leonardo DiCaprio as a professional thief who steals information by infiltrating the subconscious of his targets.
After unlocking an ancient portal, a group of scientists and military personnel travel to a planet that resembles ancient Egypt.
Stargate
Stargate is a 1994 science fiction adventure film directed and co-written by Roland Emmerich. The film is the first entry in the Stargate media franchise and stars Kurt Russell, James Spader, Jaye Davidson, Alexis Cruz, Mili Avital, and Viveca Lindfors.
Matt Damon plays Mark Watney, an astronaut who is forced to survive after being stranded on an alien planet.
The Martian
The Martian is a 2015 science fiction film directed by Ridley Scott and starring Matt Damon. Drew Goddard adapted the screenplay from the 2011 novel The Martian by Andy Weir. The film depicts an astronaut's lone struggle to survive on Mars after being left behind and the efforts of NASA to rescue him and bring him home to Earth.
The Marvel Cinematic Universe got a little bigger with this 2018 film about T'Challa's rise to the throne.
Black Panther
Black Panther is a 2018 American superhero film based on the Marvel Comics character of the same name. Produced by Marvel Studios and distributed by Walt Disney Studios Motion Pictures, it is the 18th film in the Marvel Cinematic Universe (MCU).
After astronomers discover a comet on a collision course with Earth, humanity prepares itself for the disaster while a team of astronauts try to prevent it.
Deep Impact
Deep Impact is a 1998 American science-fiction disaster film directed by Mimi Leder, written by Bruce Joel Rubin and Michael Tolkin, and starring Robert Duvall, Téa Leoni, Elijah Wood, Vanessa Redgrave, Maximilian Schell, and Morgan Freeman. Steven Spielberg served as an executive producer of this film.
The film follows Eggsy, a brash low-life who is recruited by a secret society of secret agents.
Kingsman: The Secret Service
Kingsman: The Secret Service
Kingsman: The Secret Service is a 2014 action spy comedy film directed by Matthew Vaughn from a screenplay by Jane Goldman and Vaughn. The first instalment in the Kingsman film series, it is based on the comic book of the same name by Mark Millar and Dave Gibbons.
Innocent victims are stalked by a disfigured serial killer who invades their dreams.
A Nightmare on Elm Street
A Nightmare on Elm Street
A Nightmare on Elm Street is a 1984 American supernatural slasher film written and directed by Wes Craven and produced by Robert Shaye. It is the first installment in the A Nightmare on Elm Street franchise and stars Heather Langenkamp, John Saxon, Ronee Blakley, Robert Englund as Freddy Krueger, and Johnny Depp in his film debut.
An all-star cast shines in Tim Burton's campy take on the alien invasion movies of the 1950s.
Invasion of the Body Snatchers
Mars Attacks!
Mars Attacks! is a 1996 American comic science fiction film directed by Tim Burton, who also co-produced it with Larry J. Franco. The screenplay, which was based on the Topps trading card series of the same name, was written by Jonathan Gems.