Basil Rathbone plays a famous detective who uses a magnifying glass to solve a puzzling and terrifying case involving a ghostly animal in this classic 1939 version of a Sir Arthur Conan Doyle mystery. Do you know what movie it is?
The Hound of the Baskervilles
The Hound of the Baskervilles
Basil Rathbone portrays the legendary investigator Sherlock Holmes in the 1939 movie "The Hound of the Baskervilles."
In this 1971 British classic from Amicus, four horrific stories are deftly woven together, connected by an unfriendly house.
The House That Dripped Blood
The House That Dripped Blood
While "The House That Dripped Blood" did not fare well in the UK, it did significantly better with American viewers. Since then, it has developed a kind of cult following.
The 1986 version of this movie, which has been created and remade several times, stars Klaus Kinski as the eccentric son of a Nazi surgeon who also happens to operate a women's boarding home and who enjoys secret passages, peepholes, and tunnels. Can you tell the name of this movie from 1986?
Crawlspace
The 1986 remake of "Crawlspace," which already had a frightening storyline, is rendered even more ominous by Klaus Kinski's uncannily terrifying acting.
Instead of emphasizing jump-and-startle violence, this sleek 1973 movie concentrates on a new kind of horror. Two parents who just lost their daughter accidentally travel to Venice for the husband's job. There, they meet two weird sisters and start to see bizarre occurrences that may be signs of their daughter's return. Can you identify this scary movie?
Don't Look Now
The narrative of "Don't Look Now" is held together by repeating ideas and imagery that act as silken threads.
Can you name the movie that stars Ciaran Hinds as Shakespeare and Daniel Radcliffe, fresh off of his lengthy run as Harry Potter, in a gruesome ghost story about a young solicitor who recently lost his wife and finds an enraged ghost stalking the living?
The Woman in Black
"The Woman in Black," a 2012 movie, is a frightening ghost story with a heartbreaking emotional turn that fans won't soon forget.
Drive on if there is a "vacancy" sign at the Bates Motel. What Alfred Hitchcock movie from 1960 has this dreadful hotel as its backdrop?
Psycho
The iconic "Psycho" by Alfred Hitchcock is known for a variety of things, including fatal showers, big knives, a creepy (and disturbed) mama's boy, and the painful role that fate plays. This classic movie's soundtrack by Bernard Herrmann created the tone and threw spectators off balance. Jack the Ripper's case provided the iconography, but Hitchcock is solely responsible for the concept.
This 1968 horror film has a group of humans fighting to survive as hordes of flesh-eating zombies draw in and assault them in haunting black and white. Can you identify it?
Night of the Living Dead
"Night of the Living Dead" has been included in the National Film Registry despite being condemned for being overly graphic following its debut. The National Film Registry classifies films as "culturally, historically, or aesthetically important" when listing its inclusion
This 1980 film, which gave rise to a series that turned a serial murderer into a sort of hero, depicts the tale of a little boy who drowned at Camp Crystal Lake many years before. As one of the first slasher movies from the 1980s, this movie has enough of gore for Halloween. Can you identify it?
Friday the 13th
For those who prefer sheer gore and carnage over more profound dread, the movie "Friday the 13th" gave rise to an extensive, lucrative series that is often popular around the Halloween season.
In 1978, when Michael Myers makes the decision to leave a psychiatric hospital and return home, he starts a night of terror and bloodshed. Do you know what movie this is?
Halloween
In 1978, the film "Halloween," which was inspired on Jack the Ripper's imagery, ravaged theaters. John Carpenter, a skilled director who worked with little resources, knew what makes people scared and produced a terrifying movie.
The 1979 account of the Lutz family's encounter with an unwelcome presence in their new house was made into a well-known movie that terrifies people to this day at any time of the year, but especially at Halloween. Can you identify it?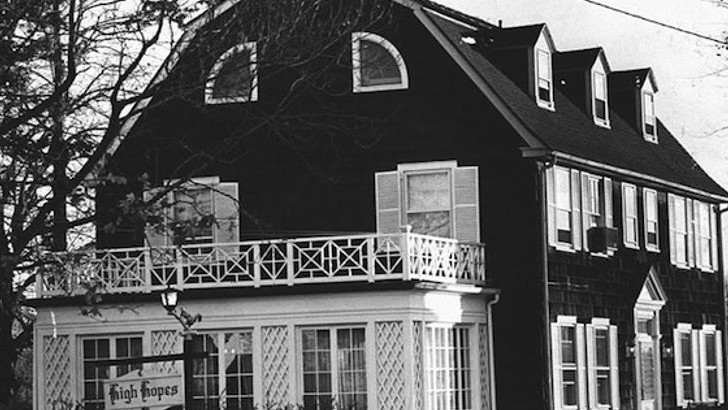 The Amityville Horror
The allegedly genuine events are depicted in the 1979 movie "The Amityville Horror" when George and Kathy Lutz relocated their family into a spotless home before fleeing it in terror 28 days later. Since Jay Anson published the novel with the same name and the movie was made a few years later, there have been ramifications and accusations of untruthfulness, but it still catches the imagination and makes the heart beat a bit quicker.
Be cautious while choosing an overnight stay. In this 1960 film, Norman Bates enjoys stuffing birds and has a close relationship with his mother. Can you tell what movie this is?
The Little Shop of Horrors
Psycho
Is the best buddy of a boy his mother? In "Psycho," an Alfred Hitchcock movie from 1960, Norman Bates believes this.
The opening scene of this 2004 movie takes place in a dirty restroom with two guys shackled to pipes and a dead body sprawled on the floor. Flashbacks are used to explain how they got there until they slowly realize that the only way out is by self-mutilating, which is done to demonstrate their great will to survive. Do you know what movie this is?
Saw
"Saw," authored by Leigh Whannell, who starred in it, and James Wan, who directed it, is a study on human boundaries. How far would you go to stay alive? Though many critics hated it, it is nonetheless an engaging picture that people keep watching.
Stephen King's 1986 novel of the same name, in which children are terrified and haunted by a terrible creature, was adapted into this 1990 miniseries. Can you identify it?
It
This version of "It," which was directed by Tommy Lee Wallace, is terrifying not just because of the terrifying clown but also, in large part, because of the impact that trauma has on the kids and what they have to deal with for the rest of their lives.
This 1988 movie takes set on All Hallows' Eve, when a group of youngsters decide to congregate in an abandoned funeral home. If you want your Halloween viewing to be strictly seasonal, avoid it. Their festive holiday get-together turns fatal as a malicious force is released. Do you know what movie this is?
Night of the Demons
Old-school horror lovers who want their frightening movies presented in that 1980s style—nothing taken too seriously until horrible things start happening and people start dying—love the 1988 movie "Night of the Demons."
The terrible tale of a man who turns into a homicidal beast at full moons is told in this 1941 movie with an all-star ensemble. Can you identify it?
Creature from the Black Lagoon
The Wolf Man
The mainstream public perception of werewolves and lycanthropy was established by "The Wolf Man."
An ancient vampire from Europe visits England in this 1931 movie in search of fresh blood. He immediately starts to favor Mina, a young woman. Do you know what movie this is?
Dracula
The 1931 film "Dracula" is based on Bram Stoker's novel of the same name.
What if Nature eventually grows sick of human interference and mistreatment? In this 1963 movie that asks the hypothetical question "what if?" as flocks of black birds swarm near a seaside hamlet, the spectator is thrust into this terrifying predicament just as are the people. Can you identify this terrifying movie?
The Birds
The events in "The Birds" take place over a short period of time in the movie, yet they have a lasting impact that still shivers spectators decades after the movie was first aired. Tippi Hedren did not have to play afraid in one scene even though she had been expected to be hit with bird props because, unbeknownst to her, Alfred Hitchcock had chosen to use actual birds.
Can you name the 1953 horror movie about a crazed guy who commits murder and achieves immortality by encasing his victims in wax? The man goes deranged after being nearly burnt to death by a treacherous business partner.
House of Wax
"House of Wax" was released in April 1953. Though reviewers at the time gave it generally poor reviews, this picture was highly successful with moviegoers.
A bewildered youngster fights to fit in and carry on in this 1976 Brian De Palma picture as she contends with a weird power and a religiously zealous mother. Can you identify it?
Carrie
An adaptation of a Stephen King book, "Carrie," debuted to critical and public success. One of the rare horror movies to receive Academy Award nominations is this one.
In this 1925 horror film, a scarred and insane composer does whatever it takes to further the career of a young opera singer. Do you know what movie this is?
The Phantom of the Opera
The 1925 film version of Gaston Leroux's 1910 book, "The Phantom of the Opera," was released.
Oh no! You failed our horror movies quiz.
Great Job. You know some spooky stuff.
Congratulations! You are the savant of the spooky.