Thor's Mjolnir is made from the metal of a dying ____?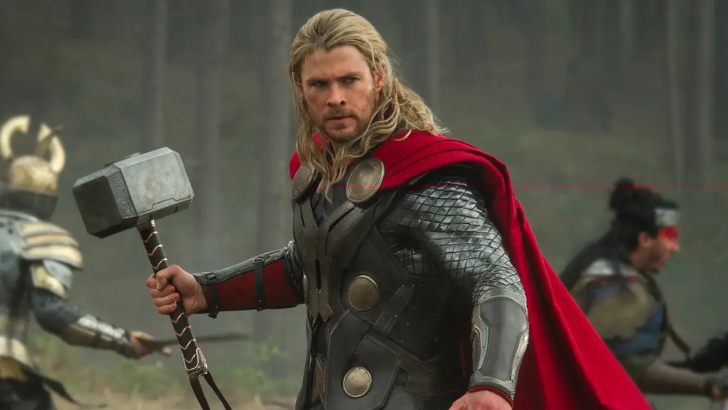 Star
Norse mythology and Marvel Comics tell us that Mjolnir is composed of "uru metal," forged ages ago by the blacksmith Etri in the heart of a dying star. Presumably uru metal is magical in nature, and thus conveys the enchantment placed on it by Thor's father, Odin.
How many Infinity Stones are there?
Six
There are six Infinity Stones: The Space Stone (blue), the Reality Stone (red), the Power Stone (purple), the Mind Stone (yellow), the Time Stone (green) and the Soul Stone (orange).
Who is Tony Stark's father?
Howard Stark
Howard Stark is a fictional character appearing in American comic books published by Marvel Comics. The character is usually depicted as a background character in stories featuring his son Tony, and also in stories featuring Captain America. He is the founder of Stark Industries.
What type of doctor is Doctor Strange?
A neurosurgeon
Dr. Steven Strange, portrayed by Benedict Cumberbatch, is a renowned neurosurgeon whose entire life is devoted to his work.
What is the name of the villain in Marvel Studios' Ant-Man?
Yellow Jacket
Yellowjacket (Rita DeMara), who began as a supervillain but later became a superhero. She has been a member of the Masters of Evil and the Guardians of the Galaxy.
Who was able to pick up Thor's hammer in Endgame?
Captain America
But the most famous wielder of the hammer other than Thor was Chris Evans' Captain America, who finally lifted the hammer against Thanos in Avengers: Endgame.
What is the name of the set of documents that regulate the activities of enhanced persons?
Sokovia Accords
The Sokovia Accords are a set of legal documents designed to control and regulate the activities of enhanced individuals, including members of government agencies such as S.H.I.E.L.D. or private organizations such as the Avengers.
What are the names of the batteries that the Guardians have to protect at the beginning of Marvel Studios' Guardians of the Galaxy Vol. 2?
Anulax Batteries
They're called Anulax batteries." "Harbulary batteries." The Anulax Batteries are devices that serve as the main power source for the Sovereign planet and its people.
Captain America's shield and Bucky's arm are made of what?
Vibranium
It is comprised of vibranium; the bionic arm grants Bucky Barnes strength superior to that of Captain America's.
What is the Wi-Fi password Karl Modo hands to Doctor Strange?
Shamballa
In Doctor Strange (2016) the wi-fi password of the temple is 'Shamballa'. This is a reference to the iconic Dr. Strange story, 'Into Shamballa'.
In Marvel Studios' Thor: Ragnarok, Thor reunited with the Hulk on this planet.
Sakaar
The Hulk made his long-awaited return in 2018's Thor: Ragnarok, where the Jade Giant appeared on the planet Sakaar, taking part in the Grandmaster's Contest of Champions.
What does the "E" in S.H.I.E.L.D. stand for?
Enforcement
Within the various films set in the Marvel Cinematic Universe, as well as multiple animated and live-action television series, the backronym stands for Strategic Homeland Intervention, Enforcement and Logistics Division.
Where did Thanos find the Soul Stone?
Vomir
But after a little bit of old-fashioned torture, Thanos learns the Soul Stone is hidden on the misty planet of Vormir. With his adopted daughter forcibly in tow, Thanos arrives on Vormir to discover a ghosty Red Skull guarding the gem.
Rocket has been called all of the following names except _____?
Whiskers
He is an intelligent, anthropomorphic raccoon, who is an expert marksman, weapon specialist and master tactician. His nicknames were Ranger Rick, Hamster, Trash Panda, and Triangle-faced monkey
In the post-credits scene of Marvel Studios' The Avengers, what type of restaurant are the Avengers shown eating at?
Shawarma
The Shawarma Palace is a small restaurant in New York City, where the Avengers assembled following the Battle of New York.
Which of the following is not on Captain America's to-do list in Marvel Studios' Captain America: The Winter Soldier?
Frozen Yogurt
Captain America's To-Do List is a list of items, people and events which Steve Rogers made note of in order to become better acquainted with the modern world. It does not include eating a frozen yogurt.
Thor has a new weapon in Marvel Studios' Avengers: Infinity War. What is it called?
Stormbreaker
Stormbreaker is an enchanted axe of Dwarvian manufacture, forged from Uru on Nidavellir with the ability to summon the Bifrost. After Mjølnir's destruction, the weapon was used by Thor.
What is the collective name of the female warriors that protect the king of Wakanda?
Dora Milaje
The Dora Milaje are fictional characters appearing in American comic books published by Marvel Comics. They are a team of women who serve as special forces for the fictional African nation of Wakanda.
Who is this Marvel character?
Nick Fury
Nick Fury is the head of the meta-human regulation organization known as S.H.I.E.L.D. in Marvel and often a go between for the Avengers. He also has a brother who is his exact opposite named Jake who is a villain named Scorpio. While Fury has his superiors, S.H.I.E.L.D.
Whose power "exceeds that of the Sorcerer Supreme?"
Scarlet Witch
In the WandaVision finale, Agatha says that Wanda's power as the Scarlet Witch exceeds that of the Sorcerer Supreme.
In which movie did Spider-Man make his first appearance in the MCU?
Captain America: Civil War
Captain America: The Winter Solider
Captain America: Civil War
Spider-Man made his Marvel Cinematic Universe debut in the third act of Captain America: Civil War (2016) as the protégé of Iron Man alter ego Tony Stark.
Who rescued Tony Stark and Nebula from space?
Captain Marvel
Shortly after Tony Stark started drifting off to sleep, he was awakened by a blinding light emitted from Captain Marvel traveling through space. After Captain Marvel found Stark and Nebula aboard the Benatar, she brought it back to the Avengers Compound on Earth.
Pepper Potts is allergic to what?
Strawberries
Growing increasingly frustrated at his mixed messages, Potts revealed she was allergic to strawberries and berated Stark for giving her the job while she took flack for his messes.
Hawkeye has how many children?
Three
S.H.I.E.L.D. agent Clint Barton has kept his past and private life a secret, like any good spy. Known only to his closest confidantes, he is married to Laura Barton and together, the couple have three children, Cooper, Lila and Nathaniel.
Pym Particles were created by who?
Hank Pym
Biochemist Dr. Henry "Hank" Pym discovers an unusual set of subatomic particles he labels "Pym particles". Entrapping these within two separate serums, he creates a size-altering formula and a reversal formula, testing them on himself.
Who is this Marvel character?
Deadpool
Deadpool is a fictional character appearing in American comic books published by Marvel Comics. Created by writer Fabian Nicieza and artist/writer Rob Liefeld, the character first appeared in The New Mutants #98 (cover-dated Feb. 1991).
What is Carol Danvers' nickname for Monica Rambeau?
Lieutenant Trouble
Monica is introduced as a child in the film Captain Marvel, portrayed primarily by Akira Akbar. This version is the daughter of Maria Rambeau and friend of Carol Danvers, whom Monica affectionately refers as "Auntie Carol", who in turn refers to Monica as "Lieutenant Trouble". After Danvers departs from Earth to take Skrull refugees to safety, Monica expresses a desire to fly in space as well.
On what planet was the Soul Stone in Infinity War?
Vormir
Vormir was a planet located at the very center of celestial existence within the Universe. The soul stone, one of the six Infinity Stones, could be found on the planet.
Who is the Winter Soldier?
Bucky Barnes
Bucky Barnes was brought back from his supposed death to be a brainwashed assassin called Winter Soldier. Reformed by his friends, he now fights alongside the Avengers. James Buchanan "Bucky" Barnes enlists to fight in World War II, but eventually literally falls in battle.
Star-Lord/Peter Quill's father Ego is a what?
Celestial
Ego was a Celestial, a primordial and powerful being, and the biological father of Peter Quill.
Thor played what video game in Avengers: Endgame?
Fortnite
When The Hulk (Mark Ruffalo) visited Thor (Chris Hemsworth) he found the hero had gained a lot of weight and was spending his time playing Fortnite with fellow alien Korg (Taika Waititi).
Who is this Marvel character?
Loki
Loki, the God of Mischief, steps out of his brother's shadow to embark on an adventure that takes place after the events of "Avengers: Endgame."
What's the name of the amulet Doctor Strange wears around his neck?
The Eye of Agamotto
The Eye of Agamotto is the name commonly given to the amulet Strange wears on his chest, though the Eye actually resides within the amulet and is released from time to time.
Who founded S.W.O.R.D.?
Maria Rambeau
Foundation. S.W.O.R.D. was founded by Maria Rambeau after 1995, under the United States Government, focusing on manned missions and extraterrestrial operations.
Scott Lang was trapped in the Quantum Realm for how long?
Five years
It's important to remember that although Scott was trapped in the Quantum Realm for the 5 years that he was missing on Earth, Scott makes mention that only 5 hours had passed for him during that time.
Who is this Marvel character?
Vision
The Vision is a fictional character portrayed by Paul Bettany in the Marvel Cinematic Universe media franchise, based on the Marvel Comics character of the same name. Vision is a vibranium-based male android created by Ultron to serve as his body.
What are the names of Wanda's twins?
Billy and Tommy
Wanda's twin boys Billy and Tommy are an important part of the comic book universe and characters that fans were excited to see in the Marvel Cinematic Universe, along what it means for the future (a la Young Avengers).
Who is the Power Broker in The Falcon and the Winter Soldier?
Sharon Carter
In the finale of Marvel Studios' The Falcon and The Winter Soldier, "One World, One People," during an intense showdown between Sharon Carter, Karli Morgenthau, and Georges Batroc, it is revealed that Sharon Carter is the Power Broker—the threatening force that runs Madripoor.
Which actor played Marvel's first Asian superhero, Shang-Chi?
Simu Liu
Simu Liu is the first Asian superhero in the Marvel Cinematic Universe. The Shang-Chi and the Legend of the Ten Rings breakout star nearly took a different career path as an accountant to please his parents.
Who is this Marvel character?
Star-Lord
Star-Lord is a fictional character and superhero appearing in American comic books published by Marvel Comics. The character, created by Steve Englehart and Steve Gan, first appeared in Marvel Preview #4.
You didn't pass the quiz!
BUT KUDOS FOR TRYING
Oh no, you nearly passed!
TRY HARDER NEXT TIME
You nailed the quiz!
YOU ARE UNDENIABLY A MARVEL FAN!